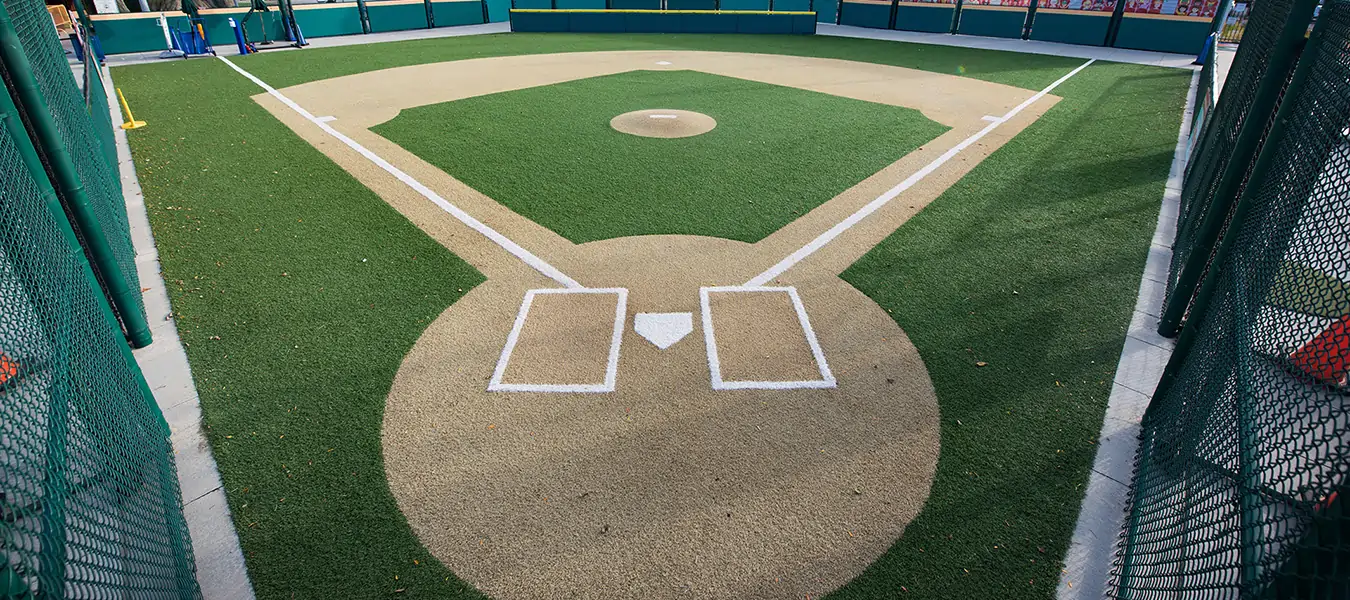 From the track to indoor gymnasiums, SYNLawn provides a variety of Bay Area sport surfacing solutions. Through creativity, engineering, and our commitment to the needs of our customers, we support athletes both on and off the field. With athletes in mind, our renowned San Francisco artificial grass products have been manufactured to include the same low-maintenance, environmental sustainability, and cutting-edge innovations.
SpeedTurf™ and TrackTurf™ synthetic grass surfaces from SYNLawn are designed to withstand the most demanding workouts and lower the risk of common sports injuries in the process. These two premium San Francisco synthetic turf options excel at tasks requiring quickness and dexterity. Additionally, because our surfaces are neither rough nor unforgiving, athletes can stretch, bend, and lie on the ground with ease and comfort. Further, the risk of staph infections and mold growth is greatly reduced by how easily the fibers can be cleaned and disinfected. In addition, many of our San Francisco sport and agility turf options include our exclusive HeatBlock™ technology. This incredible innovation keeps surfaces up to 20% cooler than any other competing synthetic grass in our industry making it comfortable for use even during the hottest summers.
SpeedTurf and TrackTurf
SpeedTurf and TrackTurf are specialized non-infill synthetic grass varieties created for physical activity and agility training drills. Both designs have a 5mm foam back and a low-pile combination of nylon and polyethylene that provides a less abrasive surface than competitors' goods made entirely of nylon. This reduces friction. Sleds and other weight-training implements glide across the surface of the unique mixed grass with ease, improving overall speed and performance.
Tufting lines into the grass eliminates seams at key stress zones
Able to tolerate heavy wear and foot traffic
No infill for simple upkeep and cleaning
Nylon root zone for resistance reduction and durability
Impact energy is absorbed by 5mm rubber cushioning.
Manufacturer's 9-year warranty
Ideal for soccer fields, tennis courts, batting cages, indoor shot put and hammer training, sled pulls, cross-training, gym floors, weightlifting areas, and more

The Versatile Athletic Court Solution – SYNCourt
With the help of our SYNCourt athletic flooring, SYNLawn can furnish a neighborhood gym or create a basketball court for your school or employee lounge. We use high-quality design and construction methods that will stand the test of time. Additionally, regardless of the weather throughout the year, with our court tiles, your patrons can play their preferred sport whenever they feel inclined.
Are you looking to add your personal touch? SYNLawn can create a unique Bay Area sports surface just for you or your team. To include a logo and colors in your SYNCourt project, we collaborate with in-house designers. Our specialists collaborate with you to design the most unique sports surface
SYNCourt sports surface flooring is designed and manufactured at our in-house manufacturing facility in Dalton, GA. Our skilled team of experts provide customization choices such as logos and colors to express yourself or show off your favorite teams. Along with accessories like court lighting, basketball goals, and tennis netting, we offer more than 15 different colors.
Applications include, but are not limited to:
Basketball
Hockey
Tennis
Four Square
Badminton
Hopscotch
Tennis
Volleyball