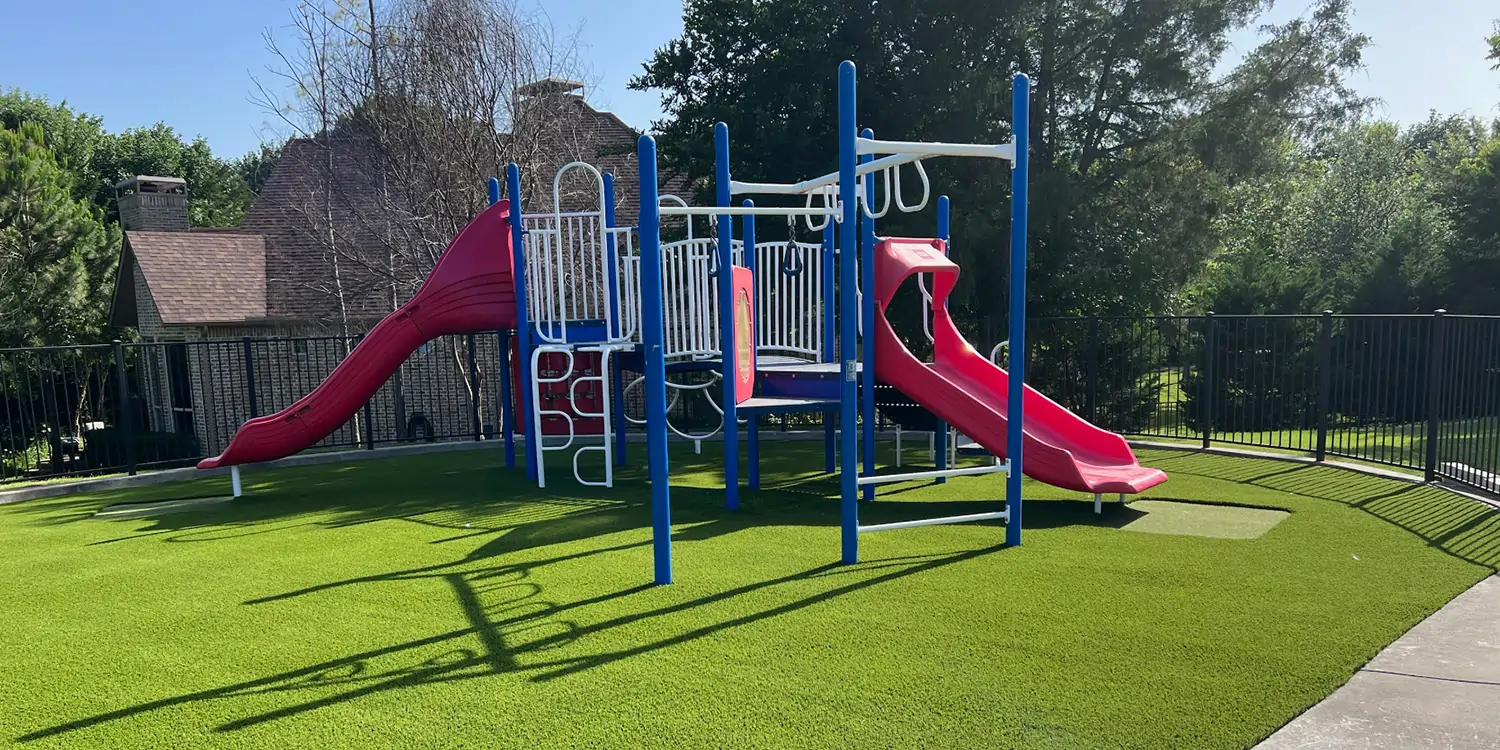 One of the primary reasons our customers continue to choose SYNLawn is our dedication to providing the most eco-friendly alternatives to natural grass and cutting-edge turf innovations. At SYNLawn, we believe that the possibilities of eco-friendly benefits and technologies are endless, and we continue to explore every avenue to promote our commitment to environmental sustainability. As a result, we are proud to include the plant-based backing system EnviroLoc+ in the manufacturing process of Bay Area artificial grass.
When creating artificial grass, the yarn is first placed into the backing fabric (a procedure known as tufting), and it is then "locked" in place by applying a polymer coating to the back of the fabric. Up to 60% of the petroleum-based polymers in our exclusive EnviroLoc+ Backing System are replaced with biobased polymers made from sustainable resources like soybean oil making SYNLawn products eligible for USDA certification. A certification you will not find anywhere else in our industry.
In addition, the EnviroLoc+ backing system has a strong 2-part woven polypropylene backing. These components work together to provide fibers with a firm anchor, which reduces shedding and produces synthetic grass that is better for the environment.
Finally, when installing synthetic turf, soil health is often overlooked. Fortunately, EnviroLoc+ allows liquids to drain at 1,200 inches per hour. A value 40 times greater than the highest recorded rainfall at one time in the US. This keeps your surfaces available for use almost immediately after coming in contact with heavy rainfall or other liquids and ensures that your soil continues to receive the necessary nutrients to remain healthy.
Partnership with US Soy Farmers
Working with American soy farmers allows us to uphold the extraordinarily high environmental standards we have as well as the quality of our artificial turf. Many of our accomplishments would not have been possible without their assistance. Our partnership allows us to explore new innovations! It also allows us to open the door to new job opportunities for American farmers to teach future generations the value of sustaining our environment and how much of an impact we can truly make.
EnviroLoc+™ Works to Keep Your Lawns Free of Bacteria
EnviroLoc+ offers more benefits than any other synthetic turf backing system on the market. In addition to greater resistance to fiber loss, EnviroLoc+ offers enhanced defense against the growth of algae, fungi, mold, mildew, and bacterial development.
Algae and fungus are well-known health hazards that can have an influence on nearby plants and animals and produce harmful runoff water. They flourish in warm, humid environments. Dead zones develop when algae restrict the amount of natural oxygen in the water, making the water unfit for use by wildlife. Water filtration in this situation is quite costly and challenging. Thankfully, SYNLawn San Francisco artificial grass is shielded against fungus and algae growth thanks to our Sanitized® antimicrobial enhancement. Sanitizing improves long term safety, extends the lifespan of the surface, and reduces allergens in the immediate area.
Like pollen and pet dander, fungi are a typical contributor to respiratory allergies and can be found practically anywhere. This makes the Sanitized® coating an incredibly crucial safety component since fungus eradication can be expensive and time-consuming.