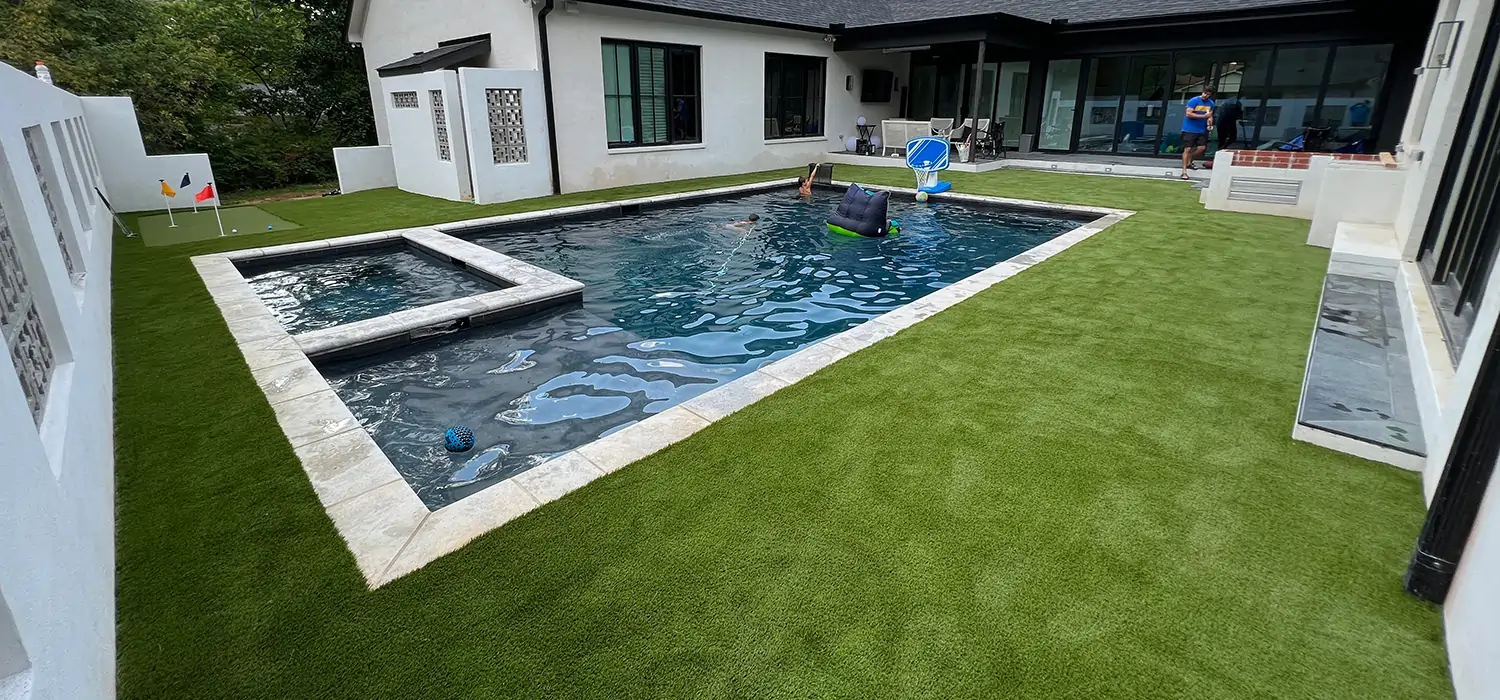 San Francisco artificial grass lawns from SYNLawn are rapidly becoming the top choice for luxury lawn installation throughout the Bay Area. San Francisco synthetic grass is easily the most realistic, durable, and eco-friendly grass alternative available on the market today. Bay Area artificial lawns will make your landscape the talk of the town and will increase your property value with ease. Our customers love the time and money-saving benefits of SYNLawn faux grass because of their low-maintenance and environmentally sustainable design. We are proud to have over 50 years of research and development instilled in our synthetic turf and over two decades of San Francisco artificial grass installation experience.
Applications for Bay Area synthetic grass lawns include but are not limited to:
Front and back lawns
Playgrounds
Backyard putting greens
Dog runs and play areas
Rooftops
Decks
Patios
Poolside
Indoor designs
Gardens
Eco-Friendly San Francisco Artificial Grass
As a leader in the artificial grass industry, we recognize our responsibility to manufacture products that give back to the environment. For this reason, we have nurtured our ongoing relationship with American soy farmers to local source renewable resources including sugar cane and soybeans. We are fully committed to environmental sustainability from the beginning of our manufacturing process to long after the completion of a job. Thanks to its plant based composition and superior durability, SYNLawn Bay Area artificial turf can be recycled and reused for future project installations.
Furthermore, this partnership has led to the creation of our exclusive EnviroLoc+ non-shedding, optimally draining, green backing system. With this partnership, we were able to replace more than 60% of petroleum-based components from the manufacturing process of our EnviroLoc+ turf backing with soybean oil and our turf fibers from the sugar cane.
Our use of bio-based materials has opened the door for us to become the first and only synthetic turf company to offer USDA-certified options. The possibilities for artificial grass are endless and we are happy to be able to open the door to new job opportunities for American farmers to continue innovating the synthetic grass industry.
When you switch from traditional sod to SYNLawn Bay Area artificial turf, you can eliminate the need for traditional lawn maintenance of any kind. This switch helps to conserve tens of thousands of gallons of water annually per lawn while still protecting the soil below by providing optimal drainage capabilities. A simple hose-off or leaf blower at your convenience is all you will need to ensure the natural vibrance and beauty of synthetic grass lawn.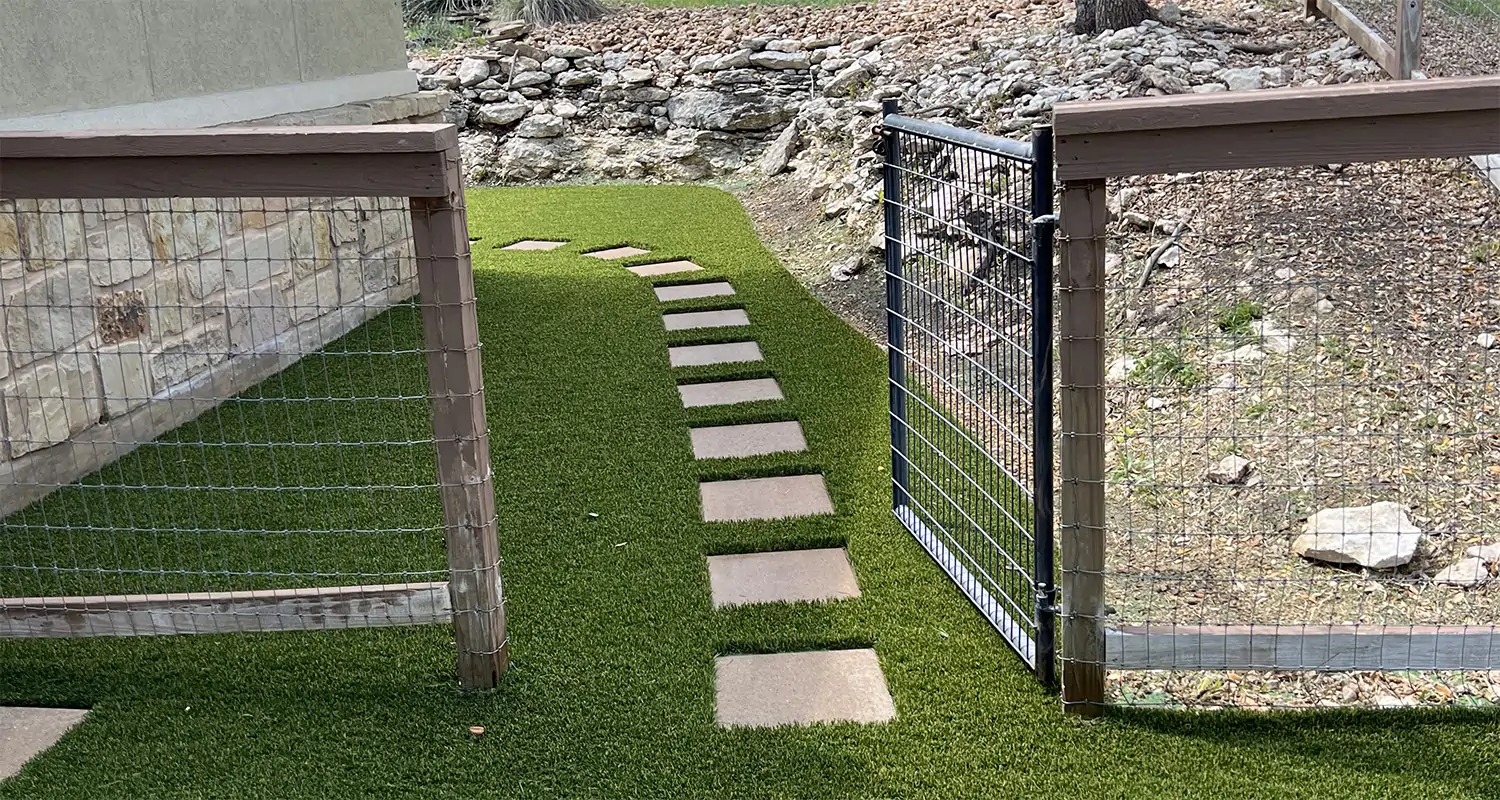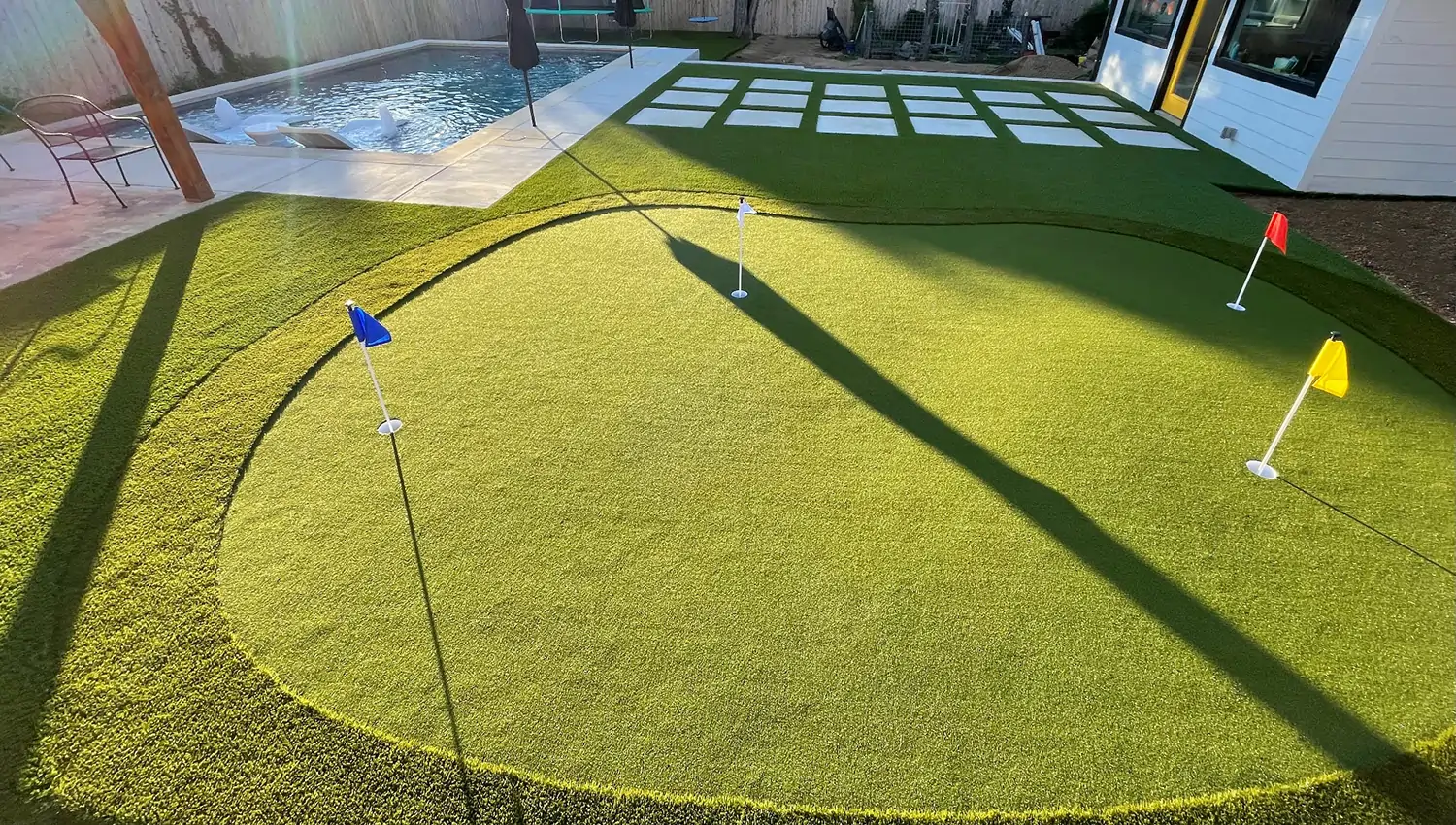 Exclusive Benefits & Professional Artificial Turf Installation in the San Francisco Bay Area
While it is no secret that SYNLawn offers the highest quality artificial turf San Francisco has to offer, we understand that it is equally important to provide the most precise installation services. We work diligently with our customers from start to finish on their installations so that we can meet all their unique specifications, provide a smooth surface free of debris, and perfectly integrate your luxury lawn into your existing landscape.
SYNLawn San Francisco synthetic grass is the result of decades of research and development. Since we offer products in a highly saturated industry, we had to be certain that we could separate ourselves from the competition by offering numerous more features and benefits than alternative lawn options. When you choose SYNLawn, you can enjoy exclusive innovations and technologies including but not limited to:
First-of-its-kind turf yarn formula Super Yarn™, featuring a highly effective antimicrobial, antistatic, and IR reflective enhancements for a cleaner, safer, and more enjoyable artificial lawn
EnviroLoc+™ backing system prevents shedding and tearing, and provides maximum drainage to keep surfaces free of mud and puddling
20% cooler surface temperatures than any other brand with HeatBlock™ technology
ASTM E-108 Class A fire-tested and rated options available that help prevent the spread of fire
Fade-resistant, UV-stabilized yarns prevent the turf from fading in direct sunlight
Meets fall attenuation up to 10 feet, Head Injury Criteria, and is wheelchair accessible
Omega blade technology is our horseshoe-shaped turf fibers designed to keep turf fibers in an upright position for a consistent natural appearance and enhanced durability under heavy foot traffic
Made in the USA and backed by an unmatched lifetime warranty