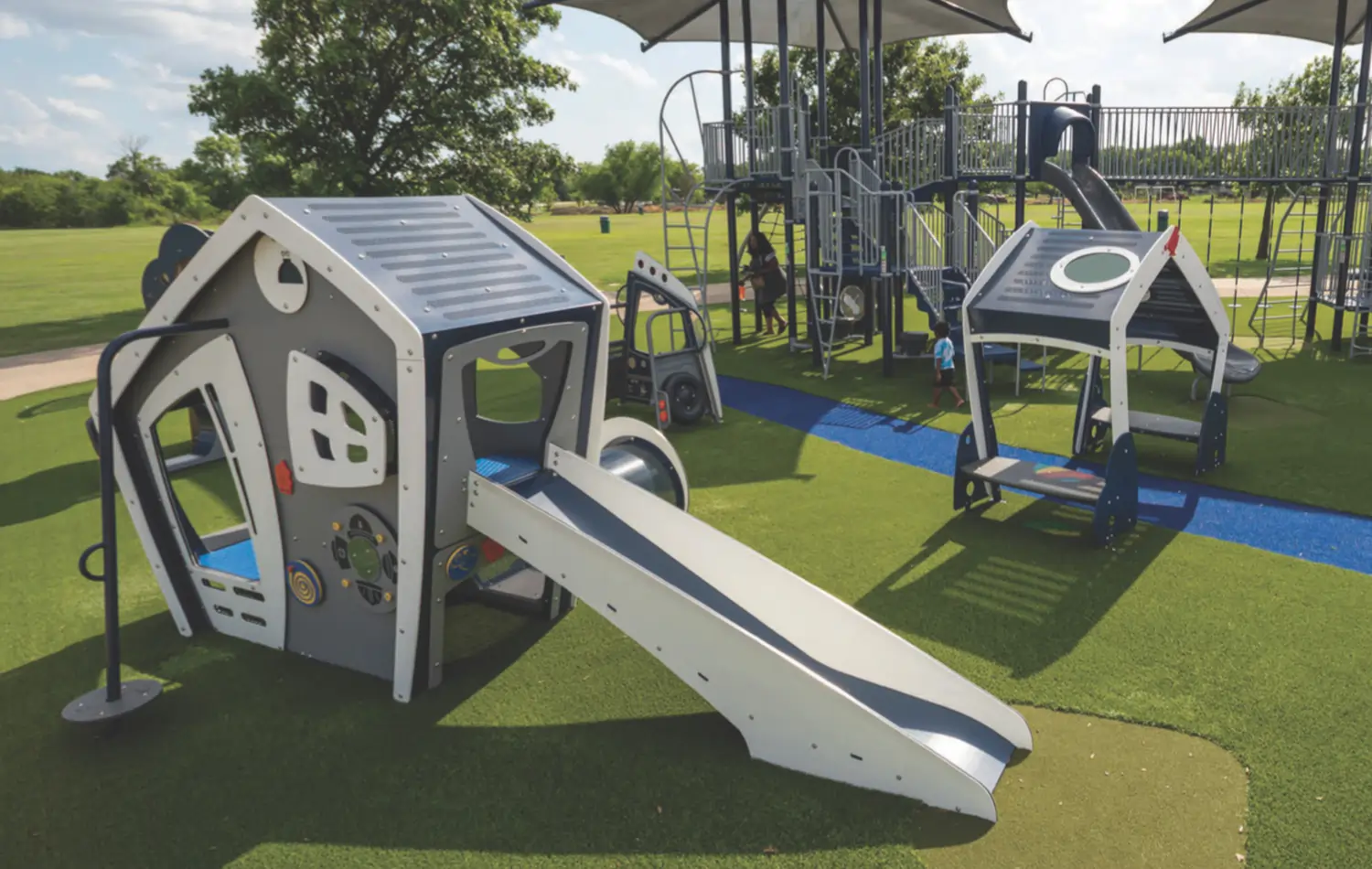 Nothing is more important than making sure our children are safe while they play on the jungle gym. For more than 50 years, SYNLawn has worked to create San Francisco playground turf systems that provide our kids with a cleaner, safer, and more resilient playground surface. Our state-of-the-art, plant-based San Francisco artificial grass for playgrounds was developed to go above and beyond for child safety, allowing kids to fully enjoy their formative years. We designed our Bay Area playground flooring systems to provide a fall attenuation of up to 10 feet, thus earning certifications from the International Play Equipment Manufacturers Association (IPEMA).
If you are looking for a lawn solution that will save you time and money on maintenance as well as provide your children with superior safety while they play in the backyard, SYNLawn is the ideal choice for you!
SYNLawn® San Francisco playground turf offers a wide range of benefits including:
Lifetime warranty
High-tech FallPad® cushioning technology can be added for additional shock absorption
The exclusive EnviroLoc+™ plant-based backing system prevents shedding, shifting, and tearing as well as provides unmatched drainage capabilities
HeatBlock™ technology keeps surfaces temperatures 20% cooler year-round and won't burn children's feet or pets' paws
Envirofill® antimicrobial infill helps to eliminate and prevent the growth of mold and bacteria
Super Yarn™ turf yarn formula includes antibacterial enhancements, antistatic, and infrared reflectivity to help provide cooler surfaces and support the integrity of turf fibers in direct sun
Soft synthetic grass fibers that are non-abrasive to the skin
Drains up to 1,200 inches per hour; no more muddy lawns
Hypo-allergenic
Made in the USA
San Francisco Playground Turf Safety Benefits
To ensure that our kids can safely enjoy their backyard playgrounds, we have instilled over 50 years of research and development into our synthetic grass collection. This R&D has led to numerous turf technology innovations such as our Super Yarn turf yarn formula, EnviroLoc+ backing system, HeatBlock technology, TrampleZones and more! Many of these proprietary innovations can be found in our residential playground turf systems.
First, to satisfy IPEMA fall attenuation standards, SYNLawn Bay Area playground turf undergoes independent laboratory testing to ensure the safety of our kids from falls up to 10 feet. Additionally, no one has to miss out on the fun since our products are ADA compliant, wheelchair accessible, and won't shift or wrinkle on impact. San Francisco synthetic grass offers a lush, soft, and ultra-realistic surface to play on while removing choking hazards and other hard and potentially dangerous surfaces. No more uncomfortable or hazardous playground surfaces such as rocks, pea gravel, wood chips, sand, or rubber that can produce increasingly hot surface temperatures in the summertime. These substances are rough on the skin, frequently cause common injuries and abrasions, and can lead to infections.
SYNLawn also provides proprietary TrampleZones®. Installed under high friction areas such as swing sets, jungle gyms, and slide exits, are low-pile height grass pads that we call TrampleZones. These turf pads are ideal for areas where higher durability is needed and can help extend the lifespan of your backyard playground turf installation. In addition to our unmatched lifetime warranty, the safety benefits can be supported long term by utilizing Trample Zones as they can be easily replaced after a few years of heavy use!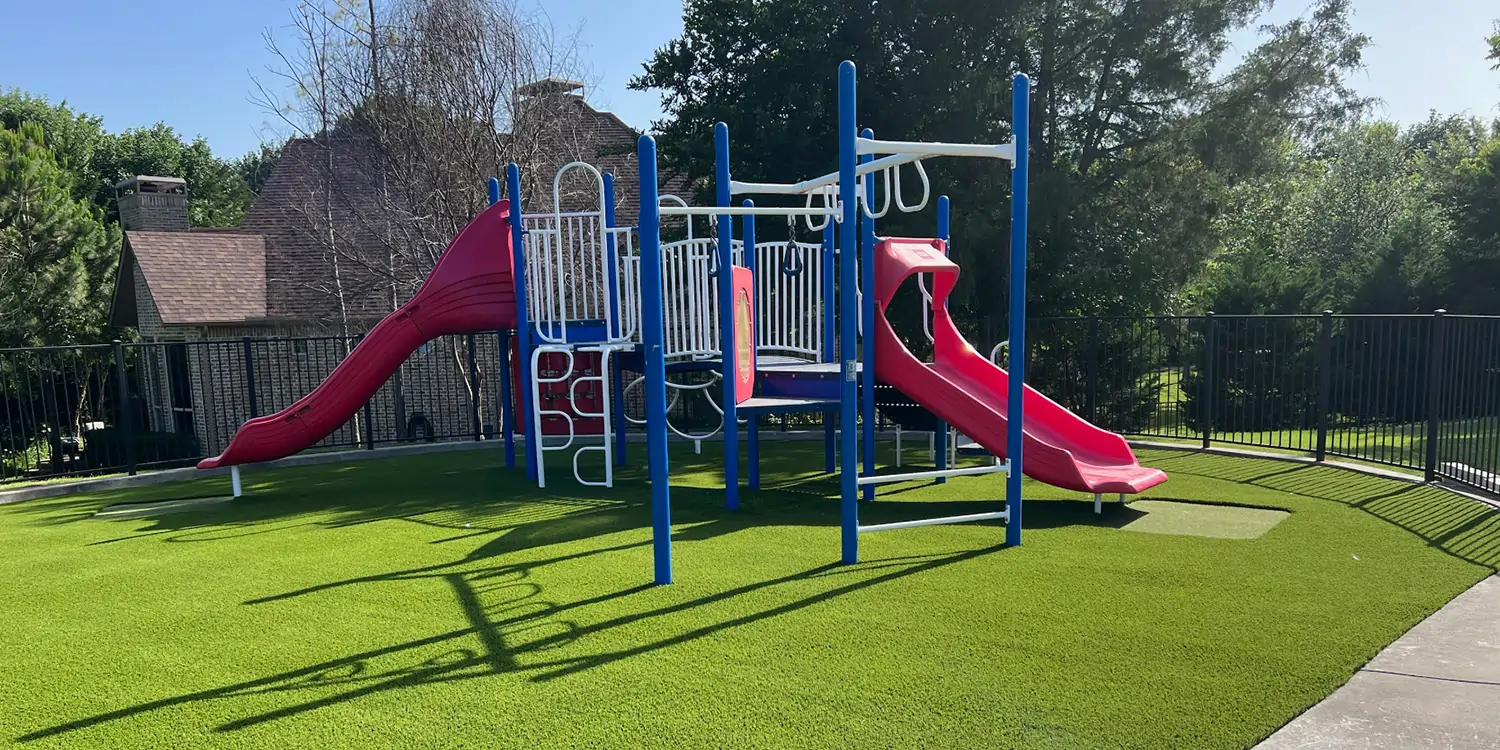 Exclusive Features and Technologies of San Francisco Playground Turf
Our state-of-the-art San Francisco playground grass is made to handle the heaviest foot traffic. Our soy based EnviroLoc+™ backing solution binds in grass fibers to reduce shedding and offers superior drainage to keep surfaces usable even after significant rain. Additionally, our Super Yarn™ technology gives your grass a powerful antibacterial that eliminates up to 99% of the germs in the turf and inhibits the formation of mold and mildew. Additionally, SYNLawn is the first manufacturer of synthetic grass to receive USDA certification for using more than 60-80% bio-based materials in its turf. In SYNLawn playground grass, the fibers are made from sugar cane derivatives, and the turf backing is made from sustainable soybean oil. Chemical-free, heavy metal-free, and hypoallergenic!