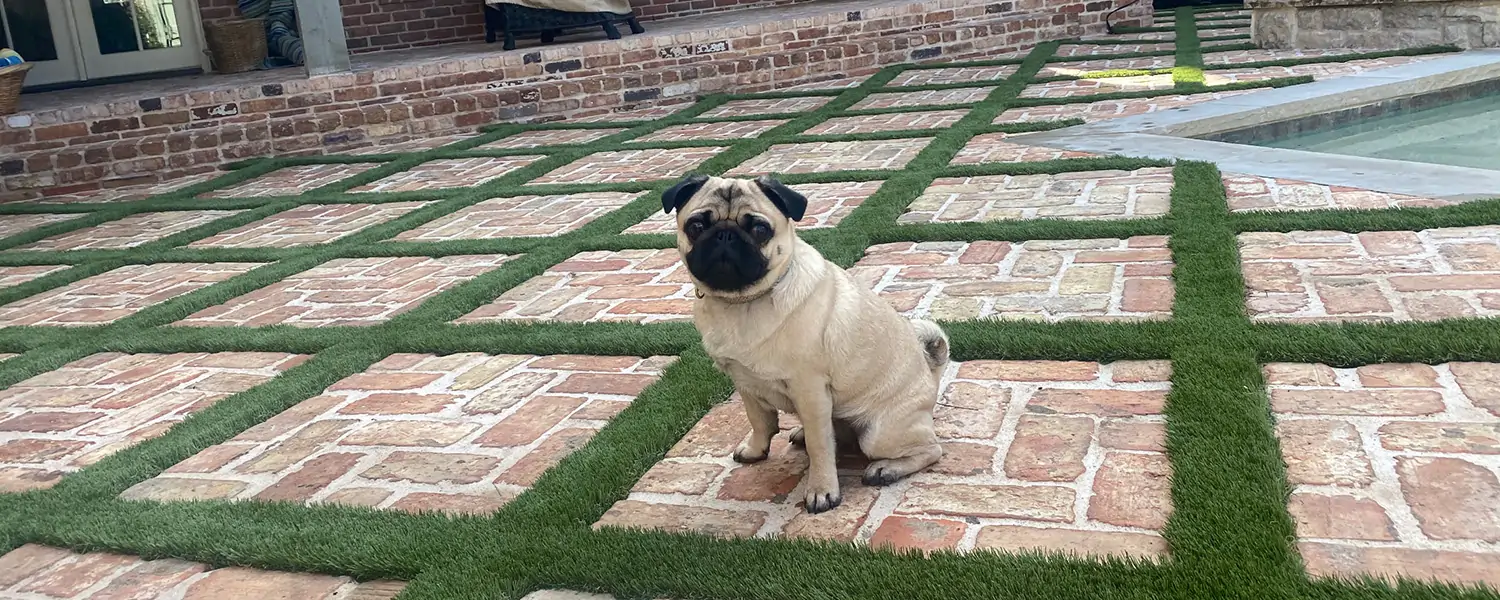 Pet owners are loving the vibrance, security, and numerous other benefits provided by installing SYNLawn San Francisco pet turf. SYNLawn recognizes that every pet has different needs, so we designed several pet-friendly artificial grass solutions to accommodate pets of all shapes, sizes, and habits. We manufacture the highest quality fake grass for dogs that offers the safest, cleanest, and 'greenest' place for them to play and relax while providing you with a low-maintenance solution to natural grass. With San Francisco pet grass you can confidently say goodbye to mud, maintenance, and all the hassles of natural grass and enjoy a pristine lawn for years to come!
The Undeniable Performance and Durability of SYNLawn Bay Area Pet Turf
If you have a pup that loves outdoor playtime, you know that this means your lawn may be at risk of deterioration. We all want to give our pets the life they deserve, but we don't always love the constant work of maintaining a luxury lawn that can support our pets. SYNLawn synthetic dog grass is designed to support both you and your pets. SYNLawn Bay Area pet grass is manufactured with exclusive features and technologies that cannot be found anywhere else in our industry. Our patented Super Yarn technology provides a highly effective antimicrobial surface that eliminates up to 99% of bacteria, IR reflective benefits, and anti-static properties to prevent static build-up. This incredible technology is the first of its kind and plays a large role in the longevity and cleanliness of your landscape. With minimal maintenance, you can expect to enjoy your synthetic grass for more than 20 years. So go ahead, play rough in the yard, our products meet commercial standards to resist high activity and heavy foot traffic!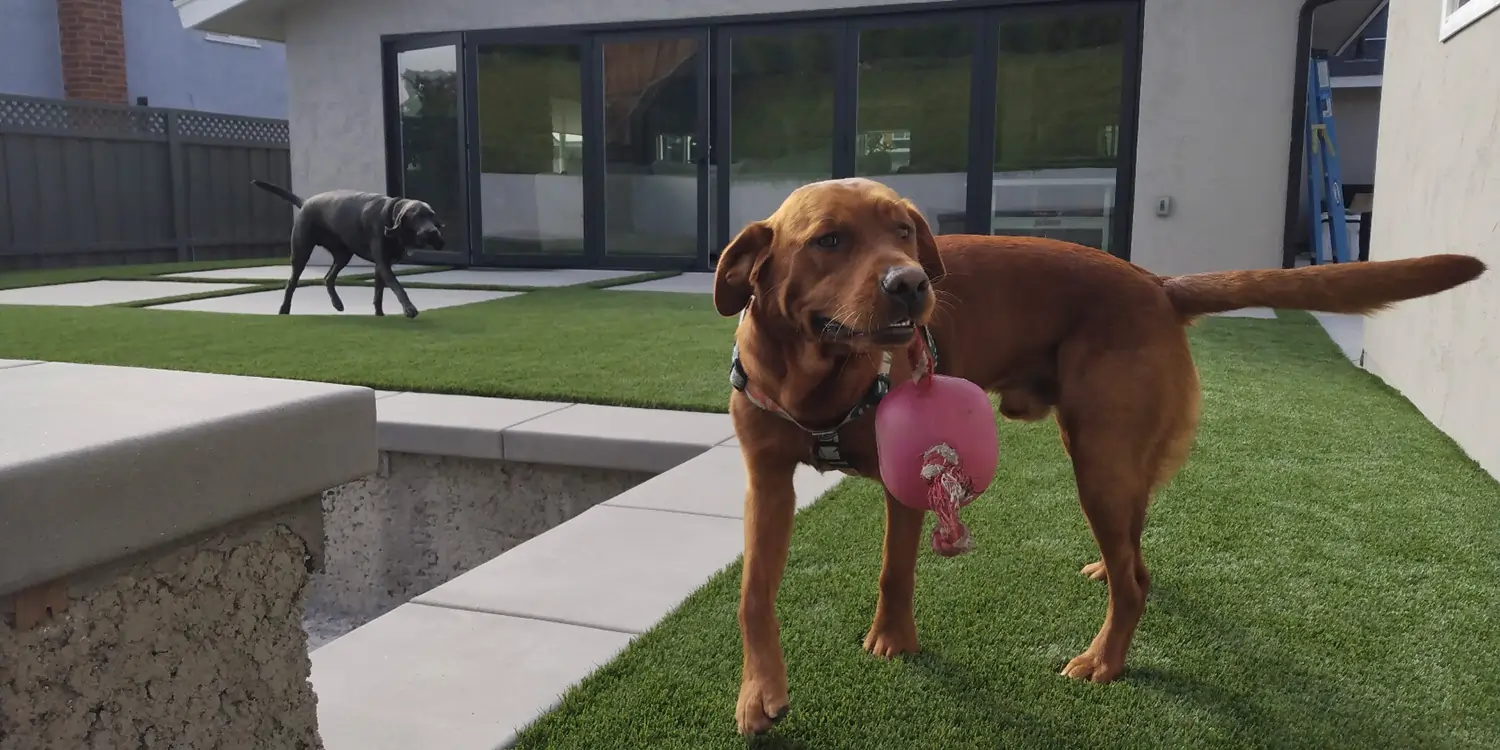 The Safest San Francisco Bay Area Pet Grass
At SYNLawn, our highest priority at every San Francisco pet turf installation is safety. This goes beyond public safety standards and includes safety enhancements to keep your dog or pets healthy and happy. We manufacture San Jose pet turf systems without the use of harsh chemicals and heavy metals. In addition, because our incredible artificial turf does not require traditional maintenance, you will never need to utilize pesticides that can affect your pet's health. Our pet solutions additionally include the use of the pet-friendly infill, Envirofill®. Envirofill® is an acrylic sand infill that helps to keep your turf blades upright and natural looking, while actively fighting odors and stains left behind in pet waste.
Finally, during the summer and in hotter climates, it is important to make sure that your dog has a comfortable surface to walk on. Fortunately, with HeatBlock technology from SYNLawn, you can achieve year-long cooler surface temperatures that won't burn your companion's paws. HeatBlock is scientifically proven to combat heat build-up and keep your lawn 20% cooler than any other competing brand in our industry.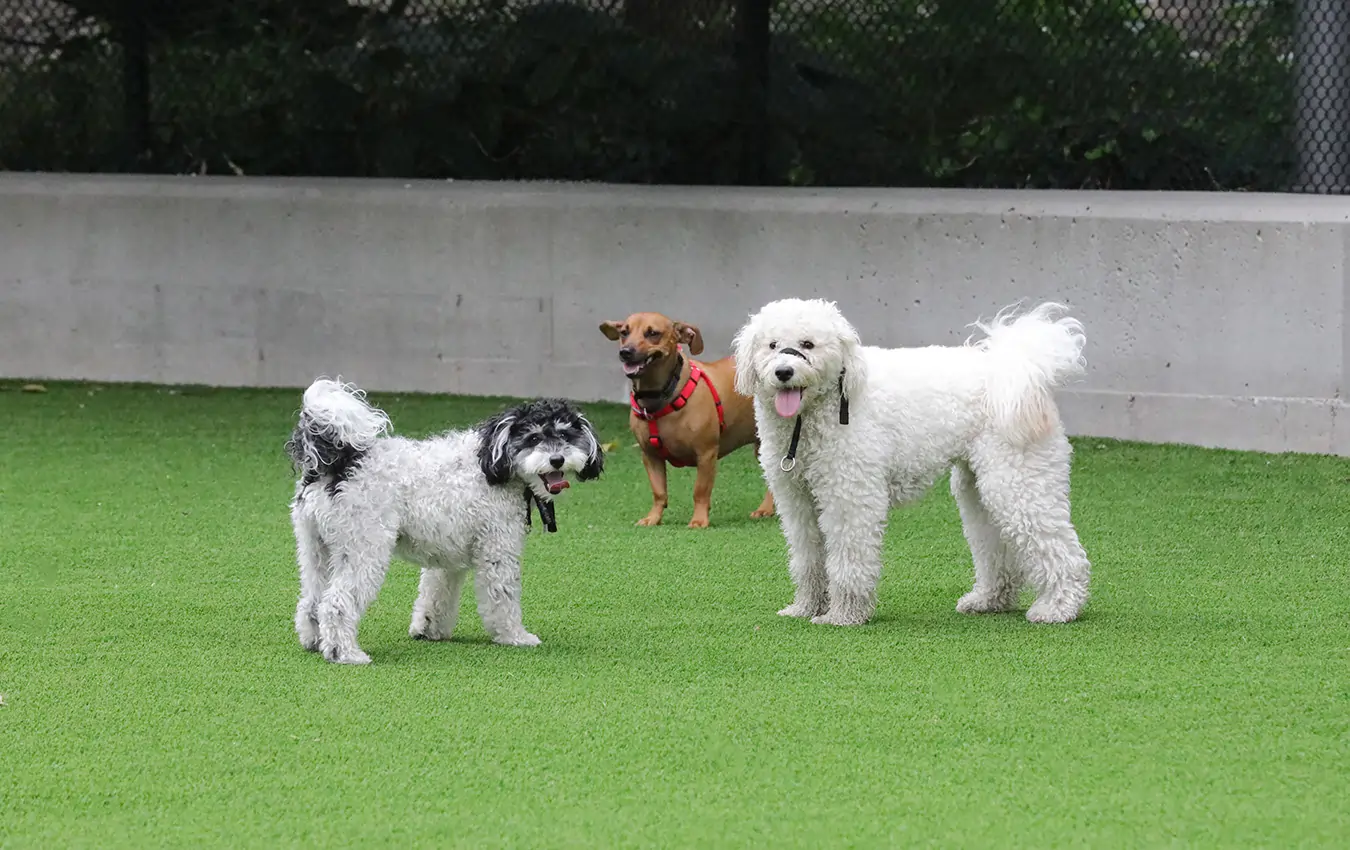 Low-Maintenance Eco-Friendly Residential Pet Systems
SYNLawn pet turf removes traditional maintenance from your landscape equation. No more mowing, no more watering, no more seeding. No matter how you look at it, if you have a dog, or pet that enjoys the backyard, you will run into rough patches, holes, and mud. Without these issues, our customers save a substantial amount of time and money that they can reinvest into their lives.
So how do we make this a possibility? We manufacture the most eco-friendly and renewable artificial grass San Francisco has to offer. This is a direct result of our long-lasting partnership with American soy farmers. Together we replace large portions of petroleum polyols with locally sourced sugar cane, soybeans, and soybean oil. Our products save customers an average of 50-70% on their water bills, eliminate more than 90 pounds of carbon emitted from gas-powered lawnmowers, and prevent SYNLawn synthetic grass from ending up in a landfill.