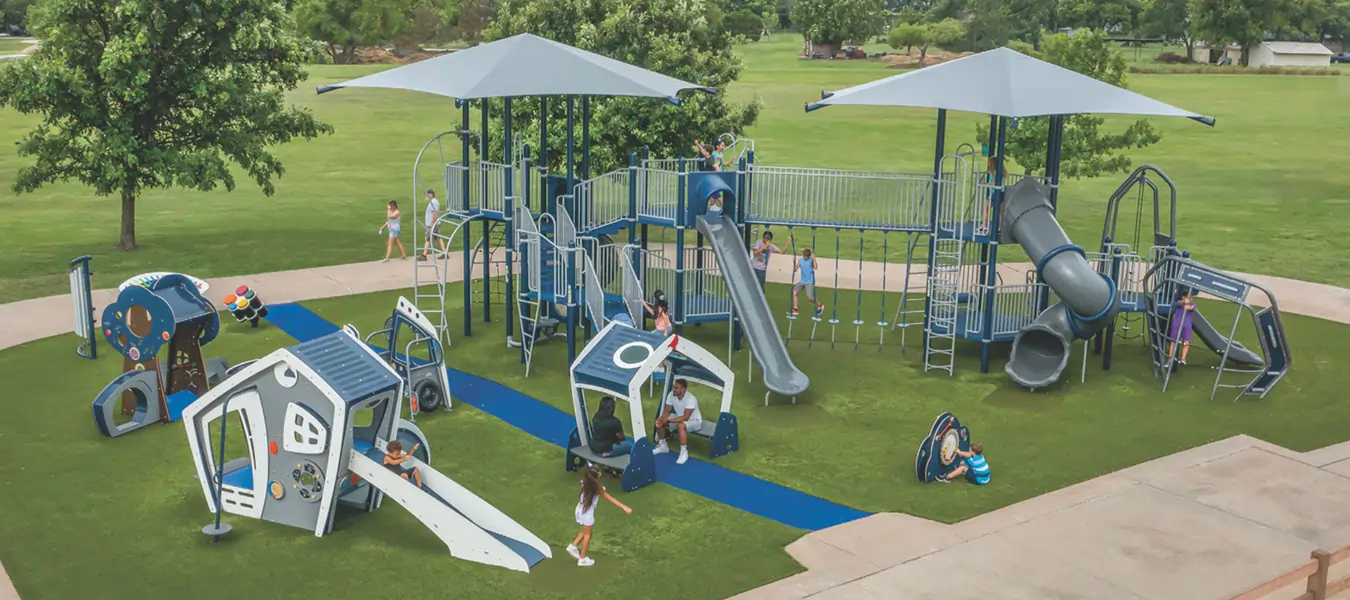 SYNLawn Bay Area is here with state-of-the-art San Francisco playground turf for your public playground! It is our goal as parents to take every reasonable step to protect our children from harm and to provide them with the life they deserve. One of the most important aspects of our children's life is playing and having fun. Although we want to provide them with the opportunity to do so, we recognize how important it is to safeguard them during the process. This is why we spent over 50 years researching and developing the safest, cleanest, and greenest San Francisco playground surface!
Our Bay Area playground grass adheres to incredibly stringent safety guidelines and features the most cutting-edge, proprietary technologies that are only available from SYNLawn. Additionally, San Francisco faux grass for playgrounds do not require the usual upkeep associated with regular sod, saving you time and money that you can use to invest in your children. There will be no more watering, weeding, or mowing!
Most playground injuries arise from falls on rough, unforgiving, or otherwise dangerous surfaces. Mulch, gravel, wood chips, hot-to-the-touch rubber scraps, and sand-based surfaces become less secure with time. None of those even come close to the playground system offered by SYNLawn.
SYNLawn San Francisco playground turf offers exclusive features including, but not limited to:
The shock-absorbing Fall Pad® cushioning system
ASTM-tested and HIC (Head Injury Criteria) certified
Safety features that you can rely on through every season
HeatBlock™ technology to provide 20% cooler surface temperatures than competing turf brands
Temperature-controlling infill can be added to further reduce surface temperatures so your synthetic grass playground surface will offer temperatures closer to that of real grass
Exclusive Super Yarn™ technology features antimicrobial enhancements to eliminate and prevent the growth of mold, mildew, and bacteria.
Envirofill® antimicrobial infill helps to eliminate and prevent mold and bacterial growth
SuperDrain™ technology drains up to 1,200 inches per hour which is 40 times greater than the most rainfall at one time in the US
Hypo-allergenic
Made in the USA with renewable materials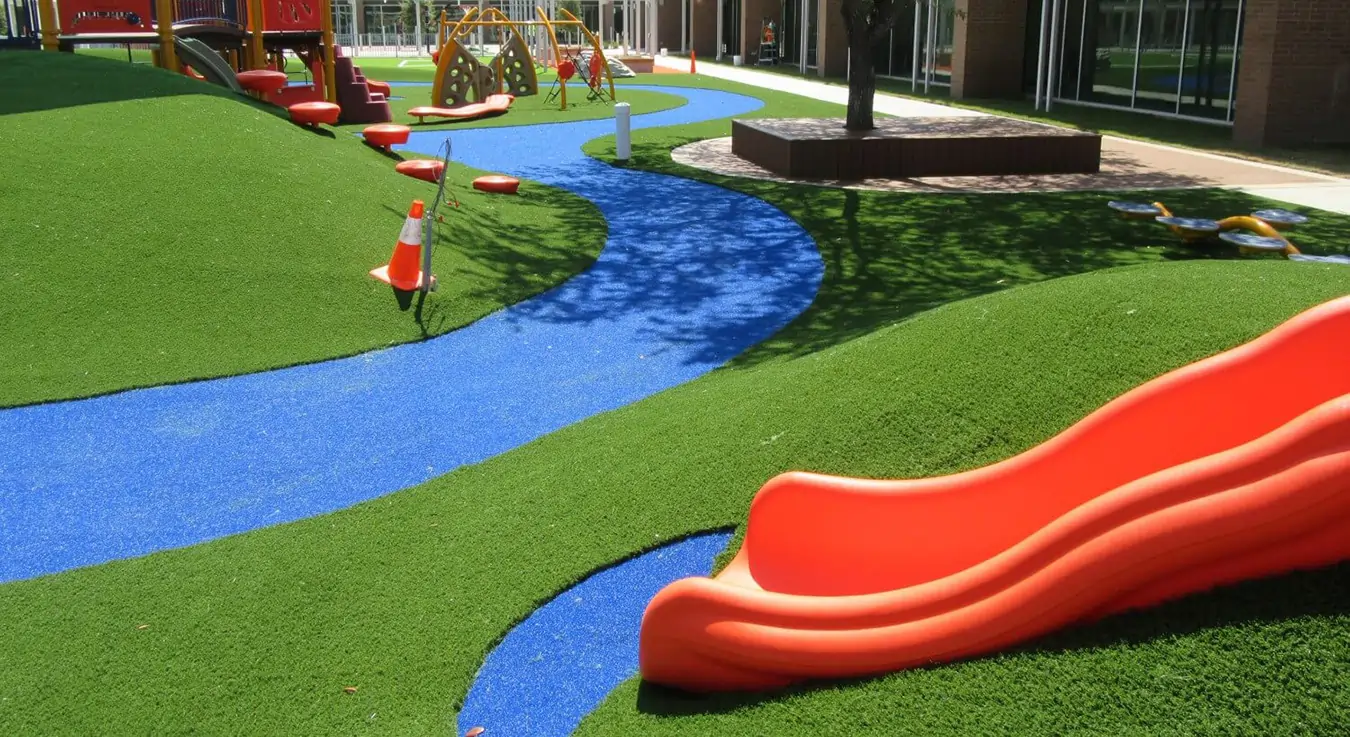 Extremely Durable TrampleZones® for Longer Lasting Bay Area Playgrounds
Children's footsteps as well as high foot traffic can cause areas near the playground equipment to prematurely wear out regardless of the playground flooring used. With SYNLawn TrampleZones, you can easily repair those high traffic portions of the playground that really need it, as opposed to replacing or replenishing the complete surface. TrampleZones are frequently seen underneath swings, around merry-go-rounds, beneath see-saws, and at the bottom of slides and jungle gym entryways.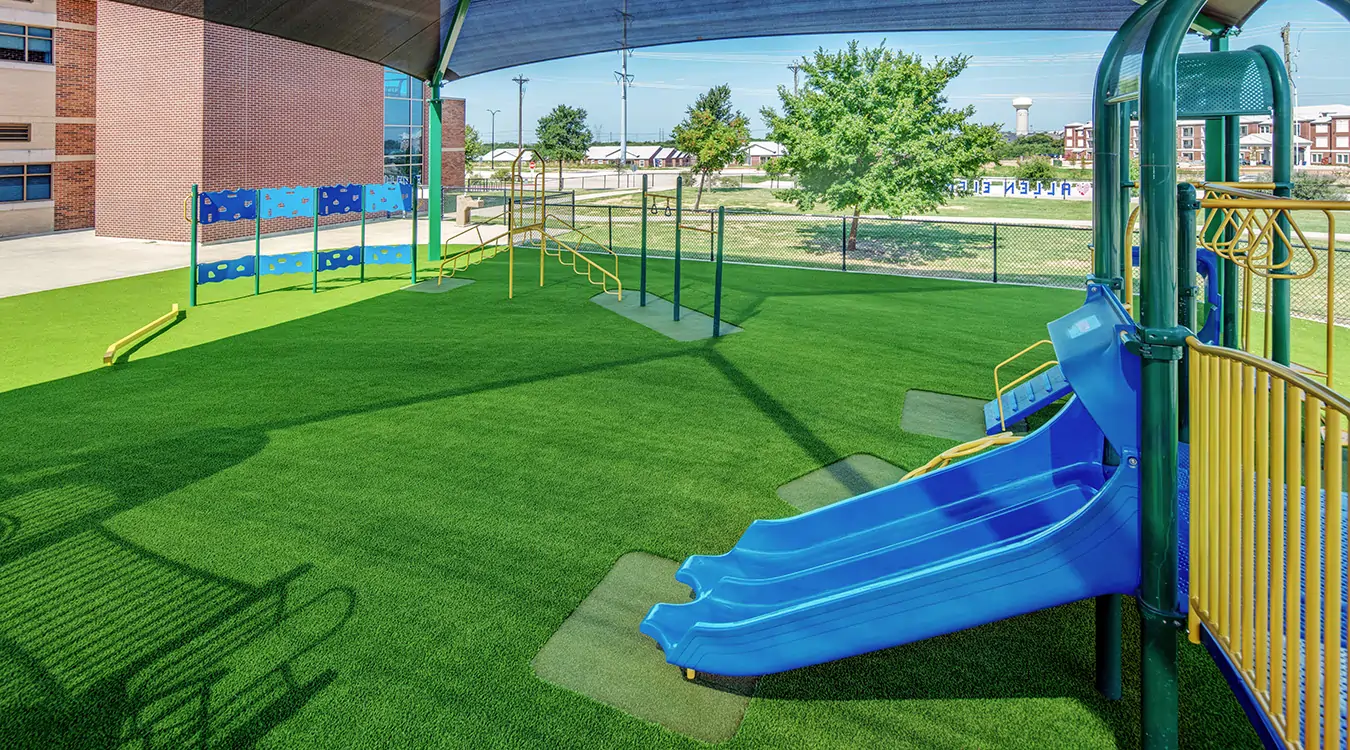 Eco-Friendly San Francisco Playground Turf
Commercial properties additionally love the eco-friendly benefits of San Francisco playground turf. We manufacture our grass solutions with renewable and recyclable materials including sugar cane and soybeans. This ensures that SYNLawn grass solutions last for decades, conserve thousands of gallons of water, significantly reduce carbon emissions, and will reduce the impact on local landfills.
The Unmatched Safety Benefits of Bay Area Playground Grass
As parents, we know that accidents can happen anytime. It is because of this that SYNLawn became the first company to recognize the need for IPEMA-certified playground turf. So, we went back to the drawing board and independently tested our playground surfaces to meet proper fall height standards and provide a non-abrasive surface for children to avoid common injuries. This makes them perfect for schools, school districts, public playgrounds, and more. Additionally, ADA compliancy makes SYNLawn playground turf wheelchair accessible to ensure that no one misses out on the fun. Say goodbye to grass stains on clothes, bumps, bruises, and wheelchair incompatibility.
Furthermore, kids are protected from up to 99% of germs that cause diseases like Staph thanks to our Sanitized® antimicrobial enhanced turf yarn formula. Additionally, thanks to the use of HeatBlock technology, kids and adults can appreciate the lifelike delicate textures of our surfaces barefoot. HeatBlock adds an additional layer of protection to your commercial playground construction by preventing the build-up of heat from direct sunlight that can occasionally burn hands and feet.