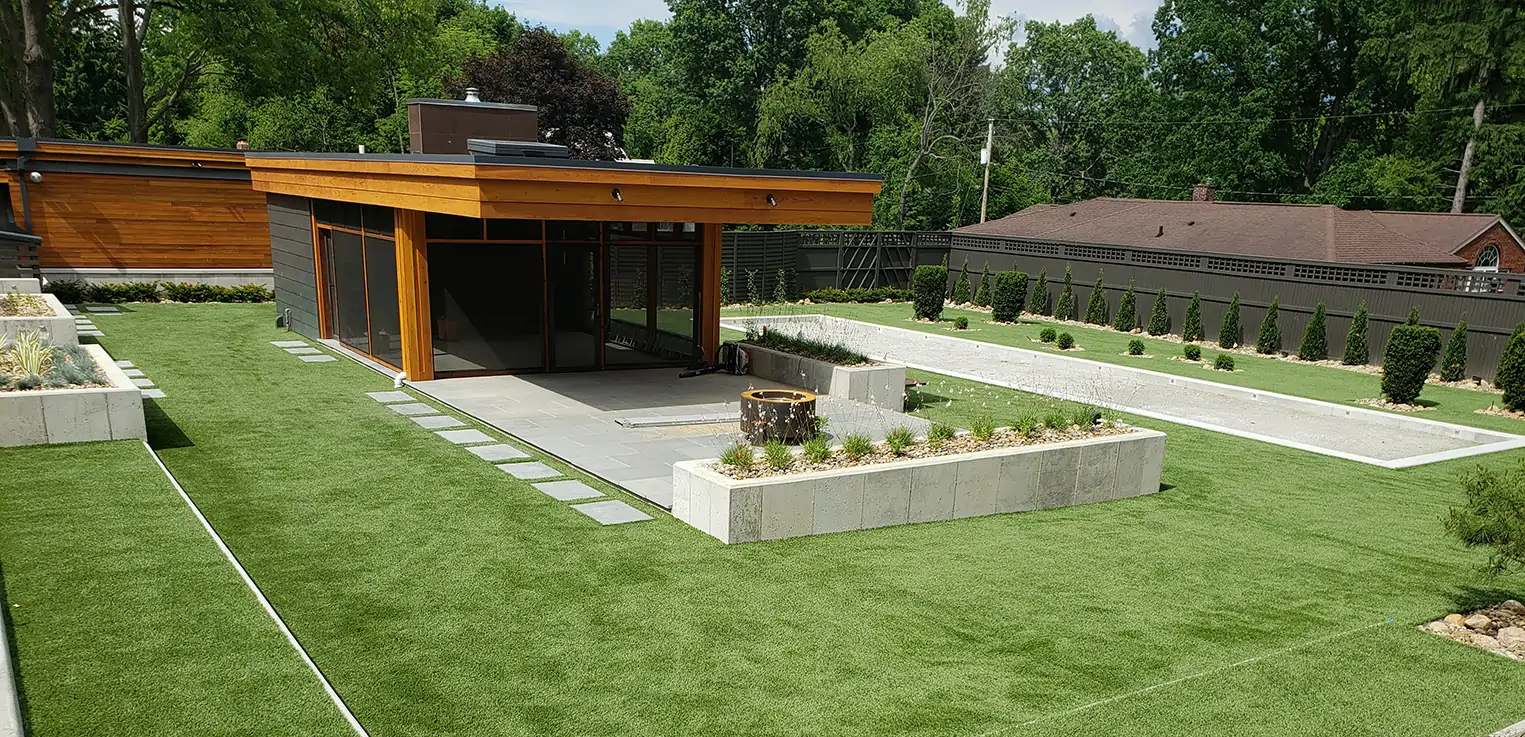 SYNLawn Bay Area bocce ball court turf is bringing the joys of bocce ball to your backyard. With an appropriate one-degree pitch for drainage, SYNPro Bocce employs a concrete foundation over aggregate to produce a uniformly texturized nylon surface. This ensures that you get consistent performance and can utilize your San Francisco bocce ball court rain or shine.
Bocce ball is a sport that continues to grow in popularity because of how easy it is for people of all ages and skill levels to pick up and enjoy. Many Bay Area homeowners are looking for low-maintenance landscape solutions that offer more than traditional sod and concrete surfaces and our bocce surfaces might be the perfect fit for you. SYNLawn San Francisco bocce ball courts are simple to incorporate into a variety of backyard and poolside designs. In comparison to conventional oyster shell surfaces, SYNLawn SYNPro Bocce delivers numerous landscape benefits without losing performance.
SYNLawn Bay Area bocce ball court system features include:
Minimal bounce and consistent ball roll
Dust-free surfaces that do not require watering
Superior durability provided by EnviroLoc+ backing system
Available for use after rainfall thanks to our optimal drainage capabilities
Kid and pet-friendly; quick and easy to clean
Wheelchair accessible
The Advantages of San Francisco Bocce Ball Turf
The low-maintenance nature of SYNLawn San Francisco artificial grass has long been one of their key advantages. This advantage strongly applies to our bocce ball systems. The beauty of your court will last all year without the need for care, and even if the Bay Area experiences torrential rainfall, the excellent drainage of our materials will prevent mud from accumulating and allow for quick usage. Every year, SYNLawn clients proudly save between 50 and 70 percent of their water expenses, which may be especially helpful in areas that are experiencing rising drought conditions.
SYNPro bocce is created with 100% nylon fibers that are UV stabilized to resist reflective light and fading, is engineered with our cutting-edge innovations, and is backed by our unmatched limited lifetime warranty. Your San Francisco bocce court will stay lavish and lively all year long and wind up becoming your new favorite location to hang out with friends and family.
Exclusive SYNLawn® Technologies
While the artificial grass market is heavily saturated, SYNLawn has become the number one choice for bocce ball turf, residential lawns, dog runs, playgrounds and more. As a result of our dedication to research and development, we have been able to design and manufacture new turf technologies and innovations that set us apart from every other turf brand on the market.
Our exclusive EnviroLoc+ is the powerful backing system included in your installation that will lock in your turf fibers to prevent shifting, shedding, and replaces more than 60% of petroleum components from our manufacturing process. This feature makes SYNLawn Bay Area bocce ball turf the most eco-friendly and renewable bocce ball court system available on the market.
In addition, we know that bocce enthusiasts are eager to play their favorite sport at any time of the year. Another way that we can help them achieve this is with the inclusion of our patented HeatBlock technology. HeatBlock is a scientifically proven temperature-reducing technology that combats heat emissivity to ensure that your surfaces are always comfortable enough to walk on barefoot. HeatBlock technology reduces shimmer to provide a natural appearance much like traditional grass and will reduce grass temperatures up to 20% cooler than any other bocce court grass across our industry.