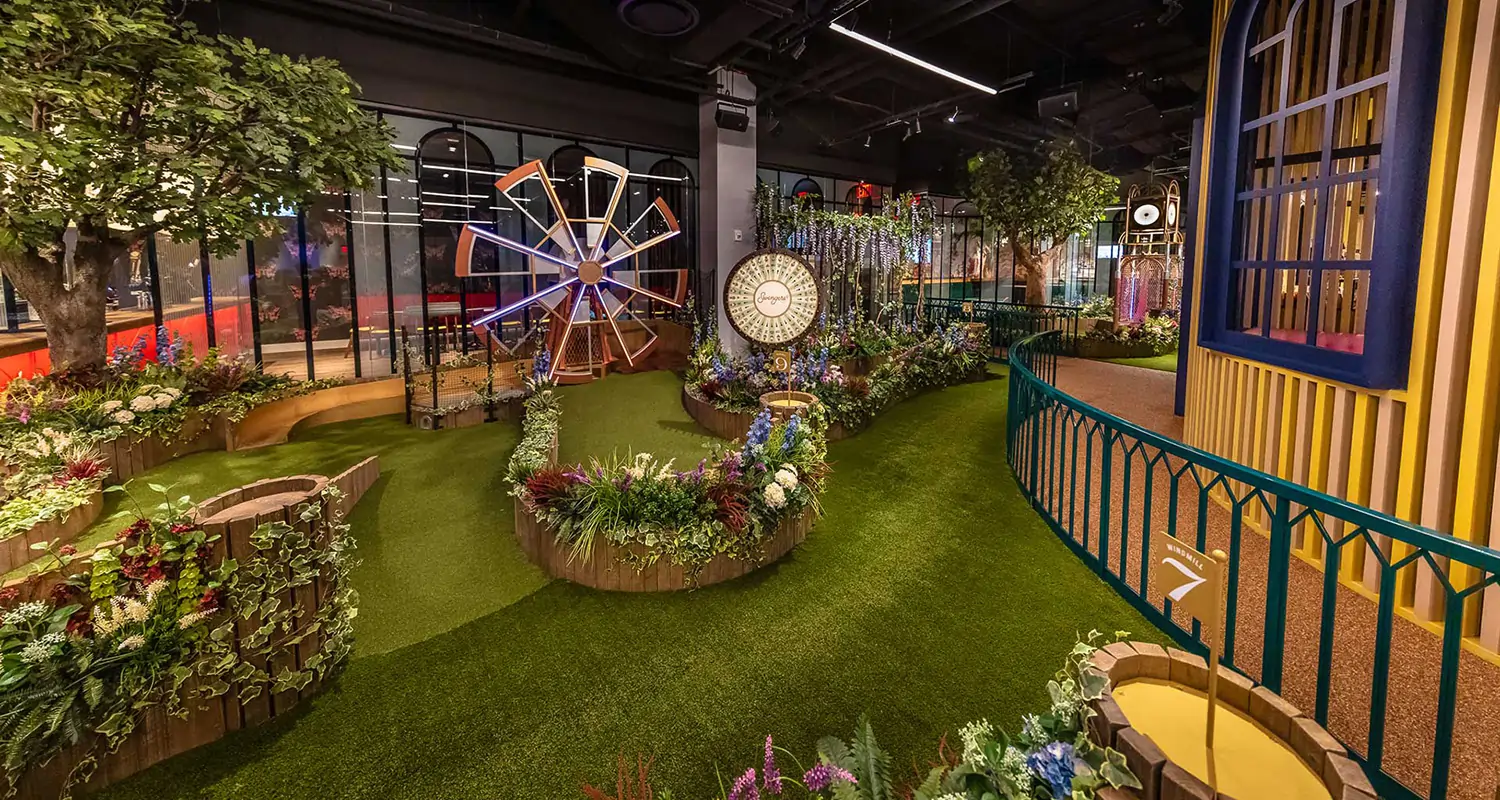 Suppose you are looking for a commercial, professional grade San Francisco putting green turf in the Bay Area to construct your brand-new mini golf course. In that case, SYNLawn provides the highest quality, ultra-realistic golf greens San Francisco has to offer. SYNLawn is a recognized leader in the manufacturing and distributing of residential and commercial synthetic grass for mini golf courses.
If you run or are designing a mini golf course, you understand that appearance can be a make or break for new and existing customers. Customers don't want to come to a facility that is falling apart or looks like it isn't maintained regularly. This is one of the major benefits of San Francisco putting green turf as it does not require traditional landscape maintenance. San Francisco artificial grass for mini golf courses provides the genuine appearance, behavior, and feel of natural grass and all you will need is an occasional leaf blowing, hose down, or vacuum.
SYNLawn golf greens in the Bay Area provide a long list of benefits that cannot be found anywhere else on the market as they are engineered with the help of professional golf coach Dave Pelz. With his help, we can provide customers with PGA-caliber golf turf even for mini golf courses and backyard use.
Nearly zero maintenance
Superior durability
Eco-friendly materials made in the USA
Realistic putt, true ball roll, & proper energy displacement to naturally slow down your ball
ASTM E-108 Class A fire-rated options, and so much more
Environmentally Friendly San Francisco Golf Turf
Our environmentally conscious customers love SYNLawn Bay Area artificial golf grass because of their eco-friendly design. It is with the help of American soy farmers that replace harmful components with renewable resources including sugar cane and soybeans to help customers conserve thousands of gallons of water, and significantly reduce their carbon footprint. No more wasted water, no more gas-powered equipment.
PGA-Caliber Performance
There are many times throughout the year that can make mini golf difficult such as during unpredictable weather patterns and hot summers. Fortunately, no matter how unpredictable the weather may be, our products offer maximum drainage of 1,200 inches per hour. This is 40 times greater than the highest record of rainfall at one time in the United States. Next, many of our options include our exclusive HeatBlock technology. HeatBlock is scientifically proven to keep surfaces 20% cooler than any competing synthetic grass or putting green turf.
Furthermore, no one wants their mini golf course, lawn, or landscape to suffer from dead patches, holes, or shedding fibers. Leave this worry behind with SYNLawn golf greens. Our San Francisco golf turf is designed to withstand high activity, heavy foot traffic, and consistent impact from aggressive putting. In fact, with minimal maintenance, you can expect more than 20 years of ultra-realistic, natural-looking surfaces.
No matter how rough your customers play or how bad the weather is, the turf on your mini golf course always remains green and resilient. Years after the establishment of the mini golf course, it still looks great.