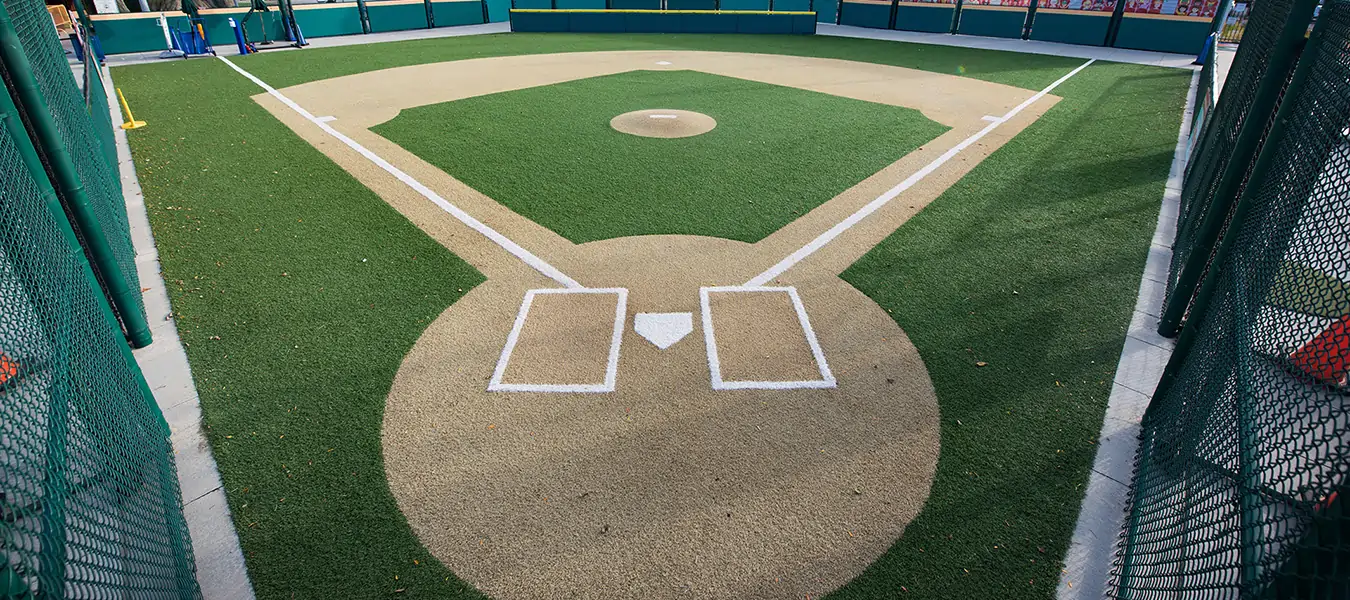 Homeowners throughout San Francisco and the Bay Area can enjoy their favorite sport or athletic activity from the comfort of their own home or backyard thanks to our San Francisco athletic turf and sport surfaces. SYNLawn is known for its many innovations with San Francisco artificial grass, and we continue to explore the endless possibilities for residential sport surfacing utilizing our SpeedTurf, TrackTurf, and SYNCourt products. With SYNLawn synthetic grass and the highest quality sport surfacing San Francisco has to offer, you can transform your residential backyard into your new favorite place to play your favorite sports.
SYNLawn Bay Area athletic turf makes it possible to practice and enjoy your favorite sports easily. You can create a batting cage for you and your children, a soccer pitch to hone-in on your goals, a personalized basketball court, or even a bocce ball court with our state-of-the-art SYNPro Bocce synthetic grass. The possibilities are simply endless.
Unrivaled Durability and Performance
San Francisco athletic surfacing solutions from SYNLawn are designed to withstand any level of workout, agility training, or activity while playing soccer, football, and many other sports. Unlike competing products that simply employ nylon, our Bay Area sports surfacing is made with a low-pile combination of polyethylene and nylon with a 5mm foam back, offering a less abrasive surface that reduces friction and enhances safety. This allows for an increase in overall speed and performance.
SYNLawn's ultra-durable and high-quality synthetic grass options excel with sports and activities that require nimbleness and agility. Athletes can run hard and lie on the ground comfortably while stretching or resting because our surface fibers are soft and non-abrasive and feature our HeatBlock cooling technology. Finally, due to how simple it is to clean and stay clean with our Sanitized® antibacterial enhancements, the danger of staph infections and bacterial growth is significantly decreased.


San Francisco Athletic Field Turf Helps to Prevent Injuries
Parents want their children to be able to play and enjoy their favorite sports without worrying about injuries. To provide families with a safer foundation to play and practice at home, we created athletic field turf that works to reduce impact and provide shock absorption. SpeedTurf and TrackTurf use a reinforced foam base layer with built-in shock absorption, shielding athletes from jolts and jars and reducing lower back fatigue, muscular soreness, shin splints, and other common injuries. At SYNLawn, safety is our highest priority and because of this we ensure that our Bay Are athletic fields and sport surfaces meet high safety standards that can keep you and your family safe from common injuries and abrasions.
Low-Maintenance Artificial Grass Sport Surfaces in San Francisco, CA
Let's face it, we all want our landscapes to remain beautiful, but we don't always have the drive or the interest in traditional maintenance. Fortunately, this is where SYNLawn shines. Our San Francisco Bay Area artificial grass does not require mowing, watering, or fertilizing. You can enjoy year-round luxury and vibrance while saving incredible amounts of time and money as well as conserve thousands of gallons of water each year. Our products are made from renewable materials and are designed to last for more than 20 years. We also back our projects with a lifetime warranty so you can enjoy your backyard athletic field for many years to come.
Full Customization
SpeedTurf, TrackTurf, and SYNCourt are dynamic and offer several options for customization to make your athletic turf or sport field installation unique. We love to give our customers creative control to change the color of their installation as well as design their own custom logo or include the logo of their favorite sports team or local team.