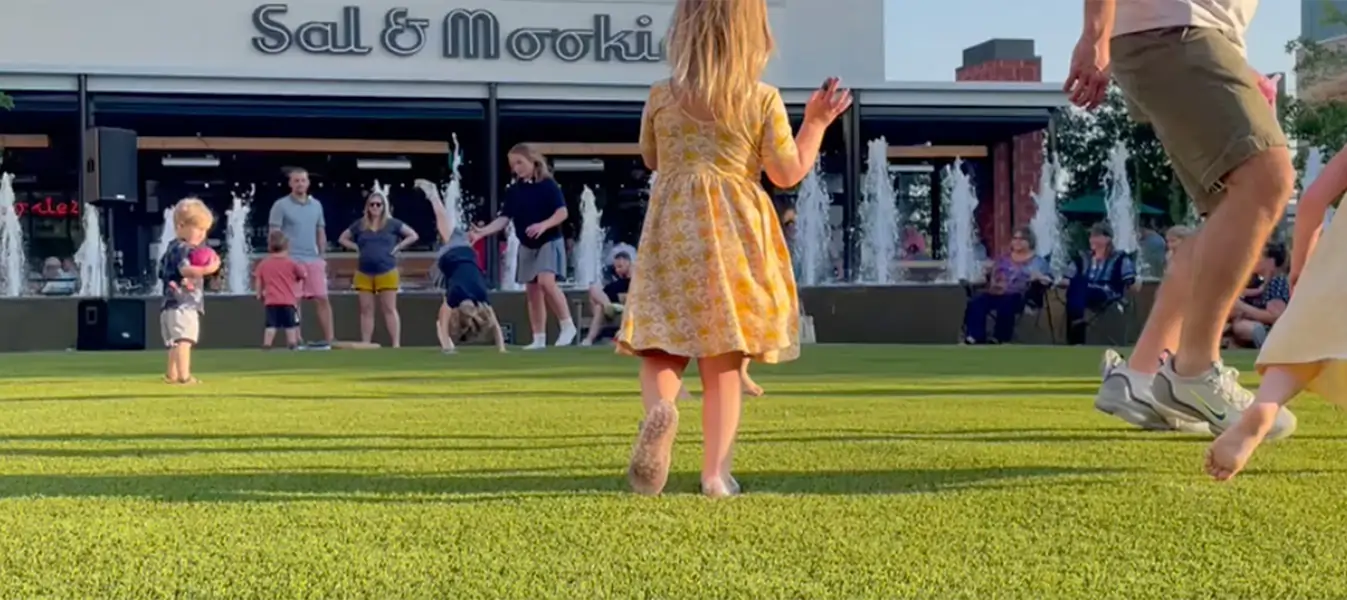 In San Francisco and the Bay Area, commercial artificial grass installation continues to grow in popularity. SYNLawn has more than two decades of experience installing its San Francisco synthetic grass for a comprehensive list of applications. We are fully licensed, bonded, and insured to work on large-scale million-dollar projects from start to finish and provide the highest quality grass solutions at an affordable price with options for monthly payment plans available. We provide the highest level of customer service and work closely with you to ensure that we meet every one of your specifications.
Benefits include, but are not limited to:
Super Yarn technology includes antimicrobial and anti-static properties
EnviroLoc+ plant-based backing system prevents shedding and provides maximum drainage
HeatBlock™ technology keeps surfaces 20% cooler by combatting heat absorption
UV-stabilized yarns prevent yarns from fading year-round
Omega-shaped turf blades keep turf fibers in an upright position for a consistent natural appearance
Professional San Francisco, CA Synthetic Turf Installation
While SYNLawn manufactures the most realistic and longest-lasting San Francisco synthetic grass on the market, we recognize the importance of providing an installation that compares in quality. Our team of expert installers are dedicated to meticulously placing every square inch of your luxury lawn to avoid seams and improper flow by laying each piece in the same direction for the most natural appearance. This step is often overlooked and takes away from the ultra-realistic appearance and behaviors of artificial turf.
Our Bay Area synthetic turf installations begin with a smooth surface. It is important to provide a base free of rocks and other imperfections that can make your landscape uncomfortable and cause injuries if fallen on. In addition, SYNLawn only utilizes the highest quality materials to ensure that your Bay Area turf installation lasts a lifetime.
Once your installation is complete you will be glad to see that your lawn effortlessly integrates with the existing features of your business or commercial landscape. This furthers the stunning impression your storefront will leave on new and existing customers and will greatly increase your property value.
Did you know that your commercial property can earn LEED credits by installing SYNLawn Bay Area synthetic turf? With SYNLawn, you can conserve tens of thousands of gallons of water annually by eliminating the need for lawn watering systems. Additionally, since our synthetic grass is plant-based and engineered to be recyclable, you can earn LEED credits for the use of renewable materials. Contact us to find out more!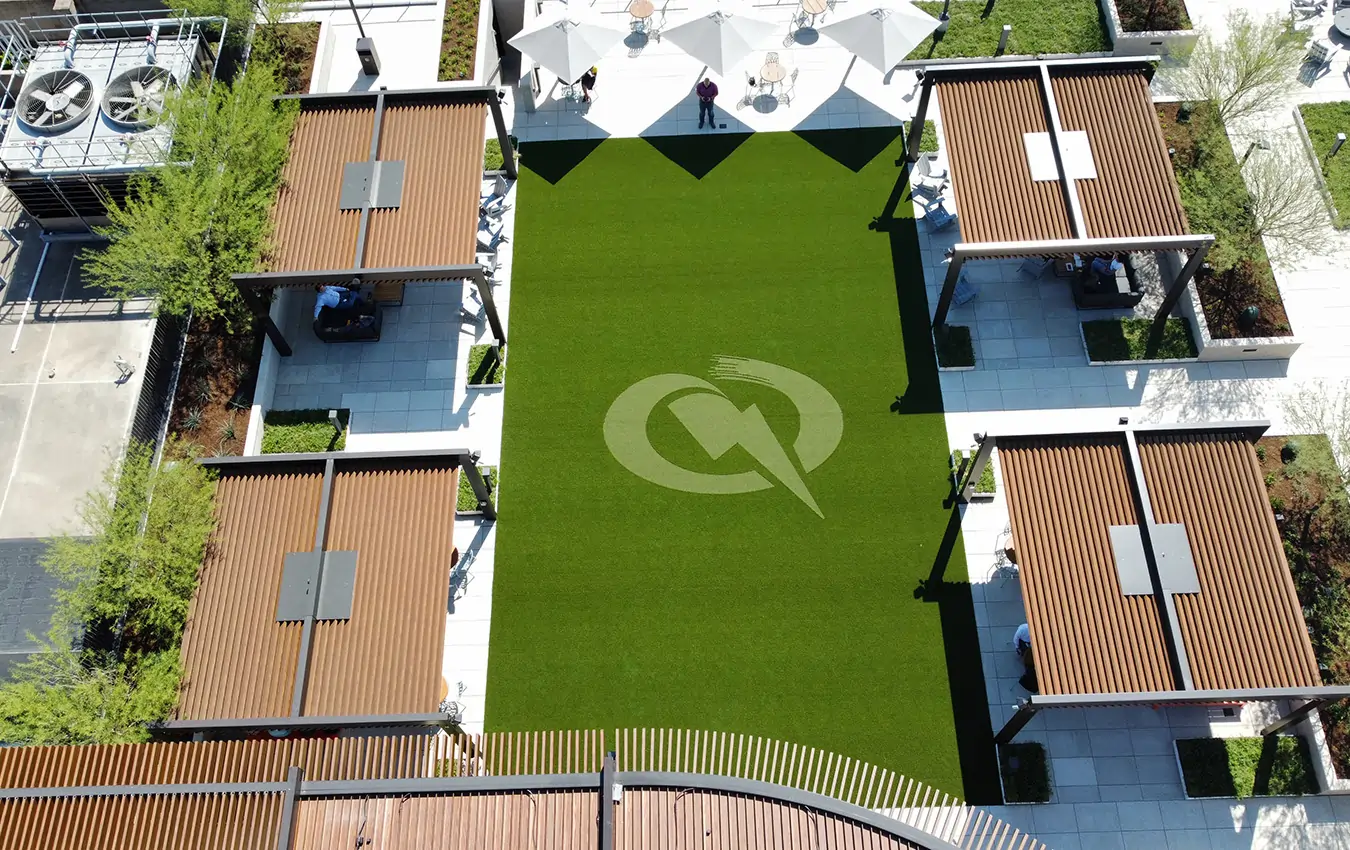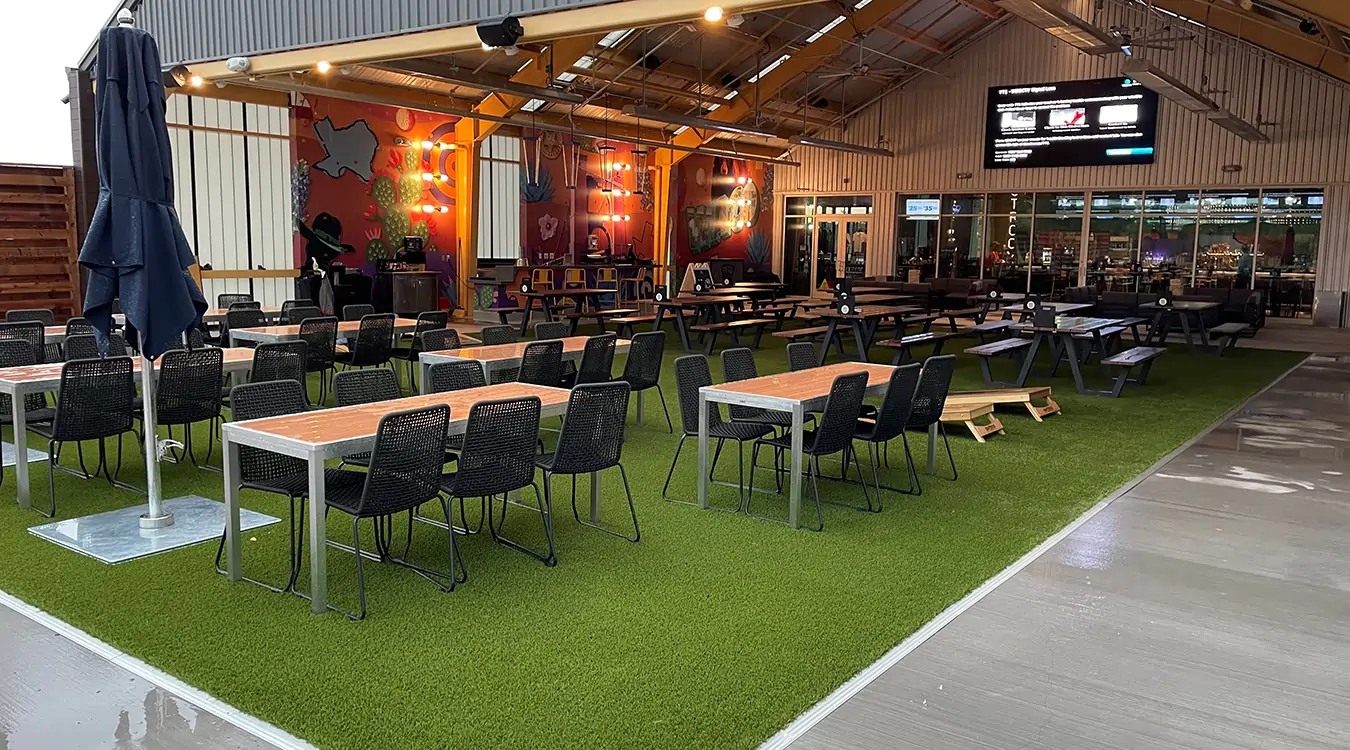 Commercial Safety Standards
Business owners understand that they will be in contact with hundreds to thousands of people daily and that means safety reigns high on their list of priorities. Many commercial properties offer activities and events that involve high traffic and that means accidents happen. Fortunately, SYNLawn manufactures the safest artificial grass San Francisco has to offer.
We are proud to be the first company to recognize the need for IPEMA-certified artificial grass products. If your installation has received IPEMA certification, you can rest assured that your San Francisco synthetic grass installation has passed public safety-specific testing and is a secure play area. Customers can also get a Certificate of Compliance from SYNLawn that confirms an installation that has IPEMA certification. Furthermore, SYNLawn grass alternatives meet Head Injury Criteria (HIC) and are ADA-compliant to protect against head injuries and provide accessibility for wheelchairs.
Finally, a large concern for businesses is meeting fire safety standards. We are proud to be one of the only companies to offer products that include the highly sought-after ASTM E-108 Class A fire rating. Class A fire-rated synthetic grass must pass 8 burn and flame tests to ensure they possess the ability to prevent the spread of fires. With this achievement, we are successfully able to provide first responders with a larger time window to arrive and extinguish the blaze.