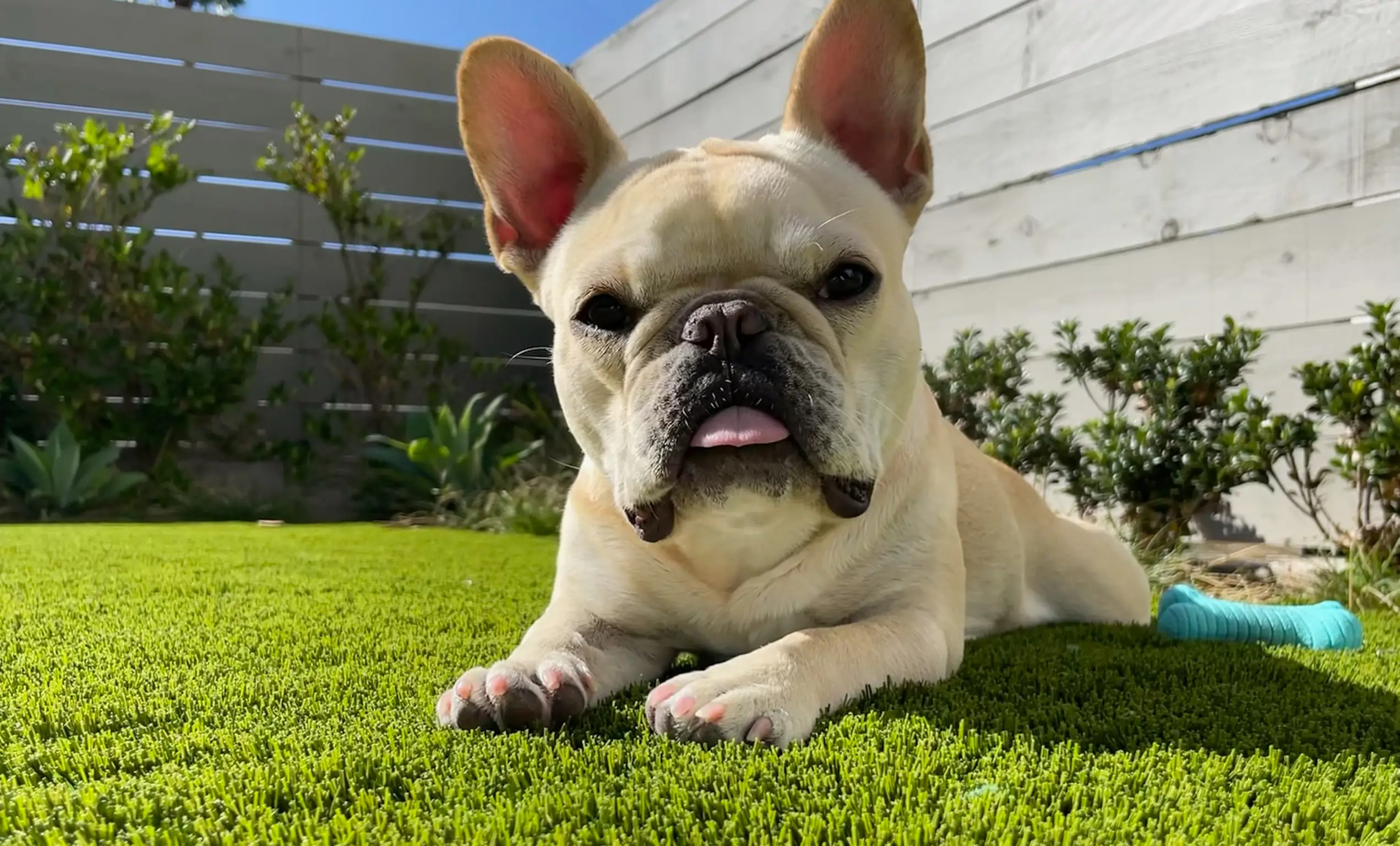 SYNLawn Bay Area pet turf is here to provide businesses and communities with a cleaner, safer, and maintenance-free lawn solution that can be enjoyed by pets of all shapes and sizes. We know that our dogs and furry friends have an almost limitless supply of energy. To socialize with them and burn off some energy, dog parks are a great location for them. However, due to the high impact dogs can have on natural grass, those parks can lose their appeal rather quickly. Fortunately, Bay Area pet turf provides incredibly lifelike appearances and behaviors, is constructed with sustainable materials, and offers a substantially higher level of durability to keep it looking luxurious year-round. In addition, with SYNLawn San Francisco pet grass, your landscape will be free of harsh chemicals, harmful bacteria, an no more fleas or ticks that can be a detriment to a pup's health.
Regardless of changing weather patterns, SYNLawn Bay Area artificial grass stays lush and vibrant.
No more muddy paws, and no more digging holes thanks to our incredibly tough backing system.
The safest, cleanest, and 'greenest' Bay Area synthetic grass for dogs.
Stain and odor resistant lawn surfaces that keep our pet-friendly Bay Area lawns enjoyable. No more yellow grass patches from pet waste!
At a pace of up to 1,400 inches per hour, water (or pet waste) drains right through. Your pets will be able to enjoy the lawn shortly after storms because there will not be any standing water.
Commercial dog parks and properties can say goodbye to muddy paws, holes, and maintenance. San Francisco pet turf saves our customers the time and money spent on upkeep. Our products help to eliminate the traditional maintenance required of real grass so that your dog park remains in perfect condition every season, all year long. On average, we can save our customers anywhere from 50 to 70 percent on their water bills from the day your pet-friendly synthetic lawn is completed. With that time and money saved, you will be freed up to reinvest back into expanding your property and including new features that will draw in more visitors.
Exclusive Technologies and Benefits of San Francisco Pet Turf
SYNLawn San Francisco pet turf systems for commercial lawns and dog parks include many of the exclusive technologies and benefits that we have diligently researched and developed throughout the last 50 years. These innovations separate us from our competition, make our products safe and eco-friendly, and ensure the longevity of your installation for decades.
Super Yarn™ technology: the first of its kind molecularly bound yarn formula
Sanitized® antimicrobial eliminates up to 99% of bacteria from surfaces helping to eliminate and prevent the growth of mold, mildew, and bacteria
DualChill™ IR reflectivity protects against fading in direct sun exposure
StatBlock™ antistatic prevents the transfer of static from metal structures to our turf
EnviroLoc+™ backing system prevents shedding, tearing, and features an additional enhancement of Sanitized® antimicrobial
Unmatched drainage allows for use as soon as storms fade
HeatBlock™ technology provides significantly cooler surfaces, up to 20% more than any competing brand
Pet-friendly infill options can be added for even more stain and odor resistance and cooler surface temperatures
Omega technology provides long-lasting blade integrity during and after high activity
The strongest warranty against reflective light
Made in the USA with recyclable and eco-friendly materials
ASTM E108 Class A Fire-Rated products
The ONLY distributor of USDA-certified products with plant-based content ranging from 60% to 80%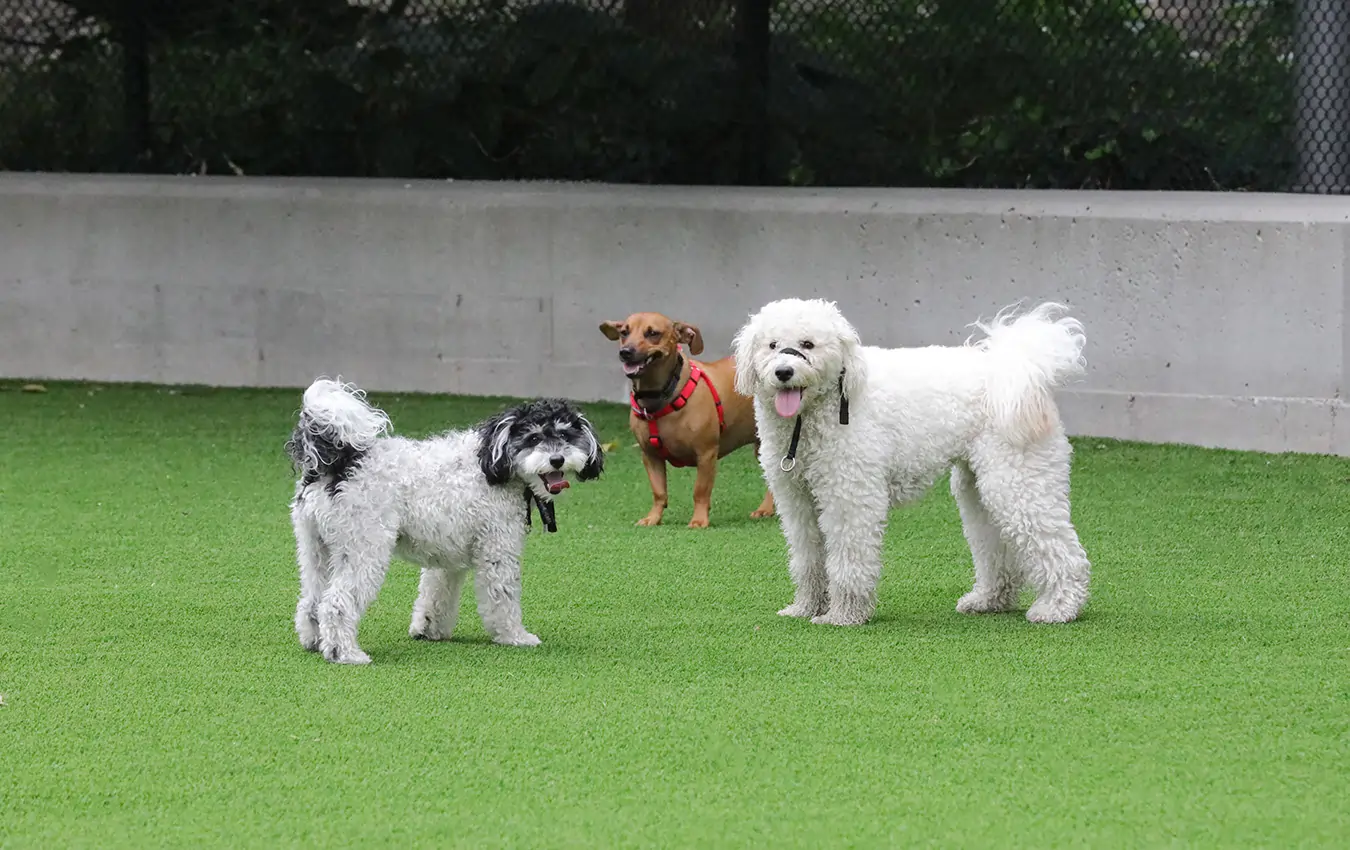 San Francisco Pet Grass Keeps Odors and Stains at Bay
Envirofill® is an antimicrobial acrylic sand top dressing or infill, that keeps your turf blades upright and helps to control odors and prevent stains. Stains and odors are unfortunately something that comes with having pets, however, they don't have to with the right surfacing. In addition, with our exclusive EnviroLoc+ plant-based backing system, liquids such as pet urine will drain right through rather than puddling at the surface which is the cause of most yellow grass patches as well as odors. EnviroLoc also helps to hold Envirofill within the turf to ensure that the benefits of the infill are being maximized.
San Francisco artificial grass products from SYNLawn are ideal for installing pet-friendly accommodations such as dog parks and may be utilized by all breeds of any size. We are happy to offer Bay Area pet turf systems that provide outstanding cleanliness, performance, and durability, and are created to be as environmentally friendly as possible. We proudly collaborate closely with landscape architects, landscape designers, general contractors, and other professionals to ensure that every product and installation we produce meets high standards of quality and safety.