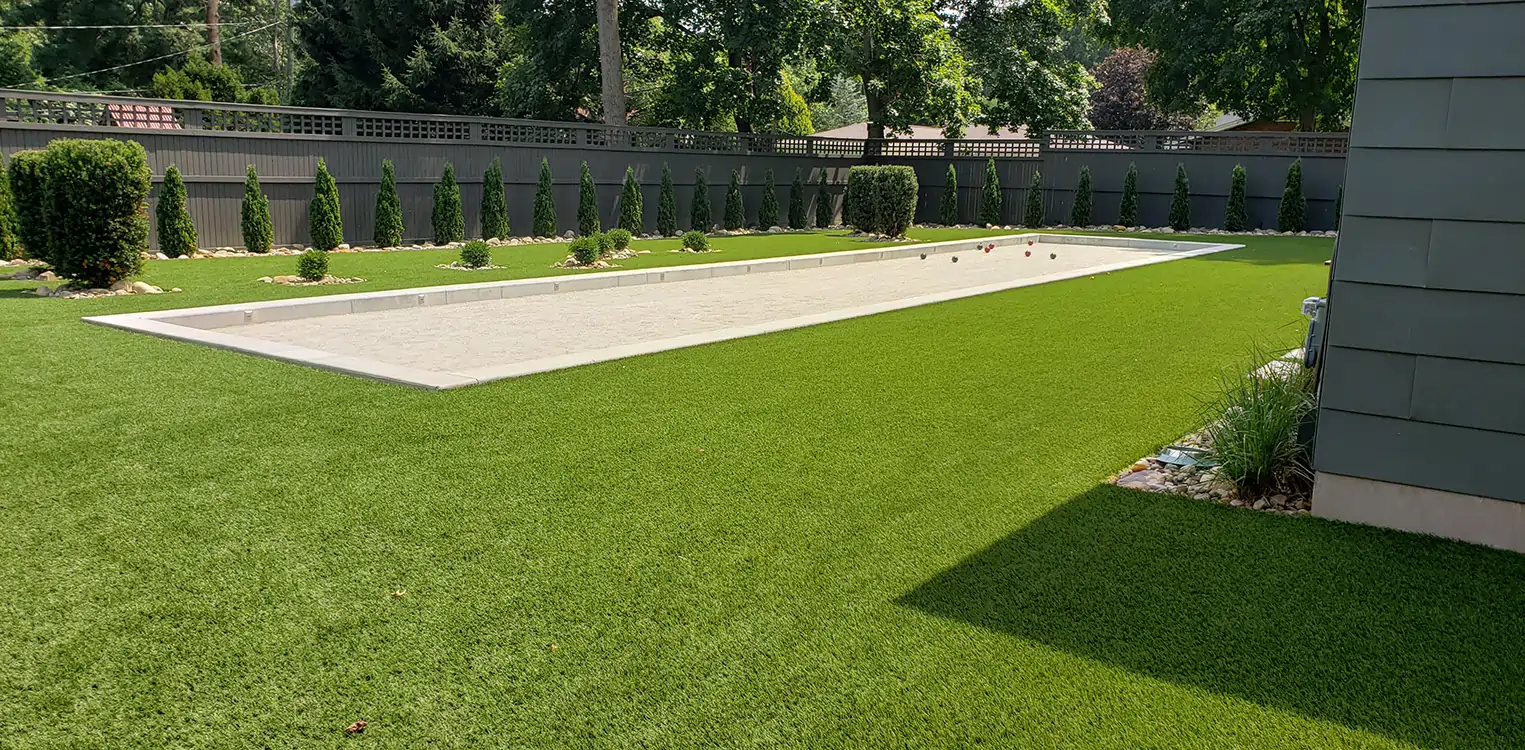 At SYNLawn, we provide the most versatile San Francisco bocce ball court systems available. They are manufactured with the highest quality materials that create the most realistic artificial grass for bocce ball enthusiasts. Bocce ball is always rising in popularity, and as a result, we knew that we needed to manufacture a solution that would provide customers with a surface with superior durability and longevity.
SYNPro Bocce is a cutting-edge court system that utilizes a concrete base over aggregate to create a uniform texturized surface with a proper pitch for optimal drainage. Bocce ball courts require a surface with a real ball roll, limited rebound, maximum drainage, and very little maintenance. That is why, due to its exceptional stability and stunning beauty, SYNPro Bocce is the perfect solution for Bocce courts of all levels of expertise.
For constant performance and to help with stress absorption so you can get the precise shots you want, SYNPro Bocce is built with a concrete foundation. In addition, we spot-glue SYNPro Bocce in place to keep it secure using a commercially approved adhesive. Further, we provide a range of court bumper varieties, from which you can choose to finish your design and add your own unique style.
Dust-free and does not require watering
Excellent drainage
Usable almost immediately after rain
Easily shoveled after snow
ADA Compliant surface
Save Time and Money on Maintenance with Eco-Friendly Bocce Ball Turf
SYNPro Bocce does not require any of the conventional upkeep needed for traditional sod. This ensures that you can play more games with your friends, family, coworkers, and others, while doing away with the requirement for equipment, irrigation, or maintenance teams. San Francisco bocce ball systems will cut customer water bills by more than half, conserve thousands of gallons of water, reduce carbon emissions, and won't end up in a landfill as they are recyclable and reusable.
Exclusive Technologies and Benefits of Commercial Bocce Court Systems
A large factor in what separates SYNLawn products from the competition is our utilization of exclusive technologies and benefits. SYNPro bocce is no exception as it features several that are the result of more than 50 years of research and development.
SYNLawn is known for developing products that promote environmental sustainability through renewable materials. EnviroLoc+, our one-of-a-kind, plant-based backing system, is made from soybean oil. This backing structure bonds grass fibers to prevent shedding and extend the longevity of our products. EnviroLoc+ also prevents fibers from shifting, allowing you to enjoy the most authentic game of bocce without the need for maintenance. Bocce ball court systems can be readily incorporated into a range of landscapes, including multifamily residences, independent and senior living facilities, and more.
Due to the sometimes-unpleasant surface temperatures in the summer, playing bocce can be challenging. SYNPro Bocce, on the other hand, incorporates our exclusive HeatBlock technology to actively combat heat absorption and make surfaces comfortable enough to play barefoot year-round. HeatBlock artificial grass is 20% cooler than any other competitive brand because it actively combats heat buildup, as demonstrated through scientific testing. Additionally, HeatBlock-infused San Francisco bocce ball grass offers a softer surface with less shimmer for a more authentic appearance and feel similar to real grass.