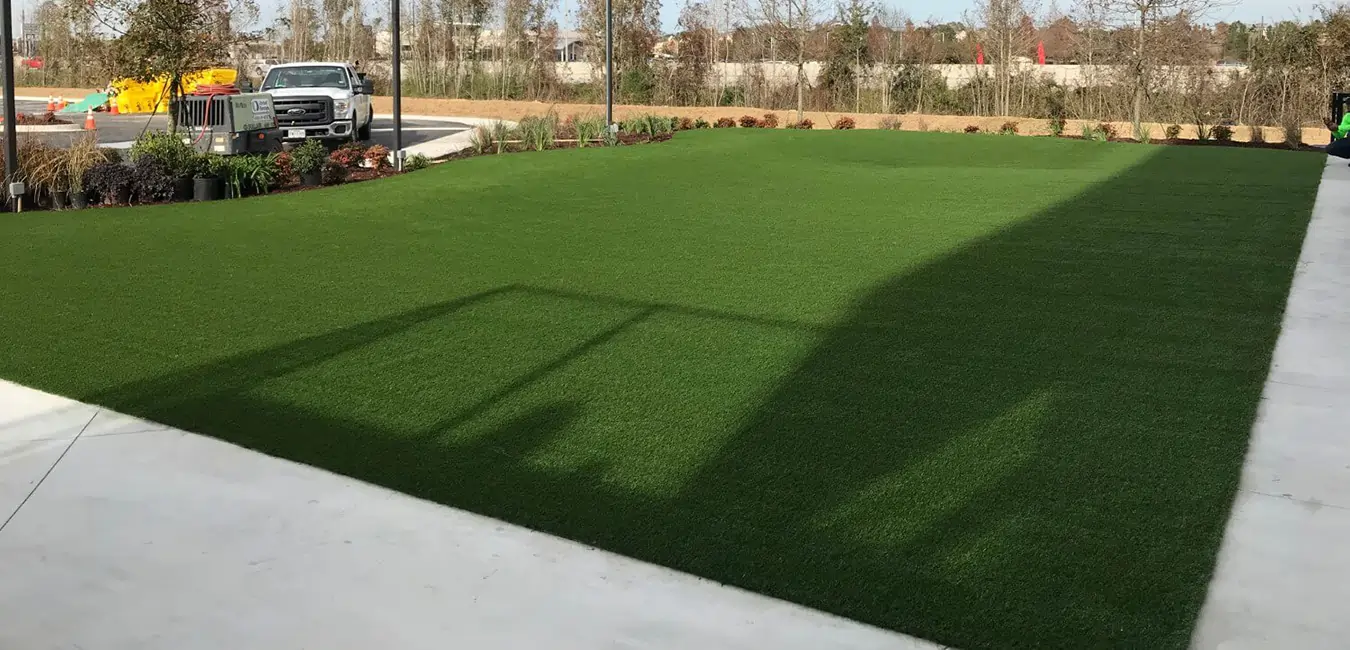 SYNLawn is the leading supplier and installer of San Francisco artificial grass throughout the Bay Area. Commercial landscapes utilize our artificial turf to design their luxury lawns because of our dedication to providing outstanding customer service and ultra-realistic synthetic grass that lasts for decades. SYNLawn has more than 50 years of R&D and continues to innovate the market with the use of eco-friendly materials and exclusive technological advancements. We are fully licensed, insured, and bonded to work on multi-million-dollar installations from start to finish.
Recover Your Time and Money Spent on Maintenance
For business owners and commercial properties, presentation is crucial. A first impression can determine whether your customers will want to continue working with you and your landscape is no exception. Business owners often do not have the time to keep up with lawn maintenance. San Francisco artificial grass, however, eliminates the need for any traditional maintenance. It is manufactured to withstand high activity and heavy foot traffic to ensure that your turf blades won't bend, fade, or shed. It is with our exclusive Super Yarn technology and EnviroLoc+ backing system that we can increase durability, keep surfaces sanitized, and make sure that they drain properly to allow for use year-round.
The Most Eco-Friendly San Francisco Artificial Grass
Ecologically conscious customers will be happy to know that one of our highest priorities is manufacturing San Francisco synthetic turf that is environmentally sustainable and will conserve valuable resources. On average, our customers save nearly 70% of their water consumption because of our low-maintenance philosophy. This also allows them to cut their water bills by more than half to reinvest in their products, services, and customer experience. In addition, switching to SYNLawn luxury lawns will significantly reduce emissions of more than 90 pounds of carbon each year from just one gas-powered lawn mower.
This is made possible thanks to our partnership with American soy farmers. Together we manufacture San Francisco synthetic turf at our in-house ISO 9001-certified facility in Dalton, GA. We replace petroleum-based components with bio and plant-based materials such as sugar cane. It is also with this material that we created the shed-free, built-tough, EnviroLoc+ backing. As a leader in the artificial turf industry, we feel that it is our responsibility to quality control our products and ensure that they meet the highest environmental standards. The possibilities and job opportunities for synthetic turf continue to grow and we have only just begun.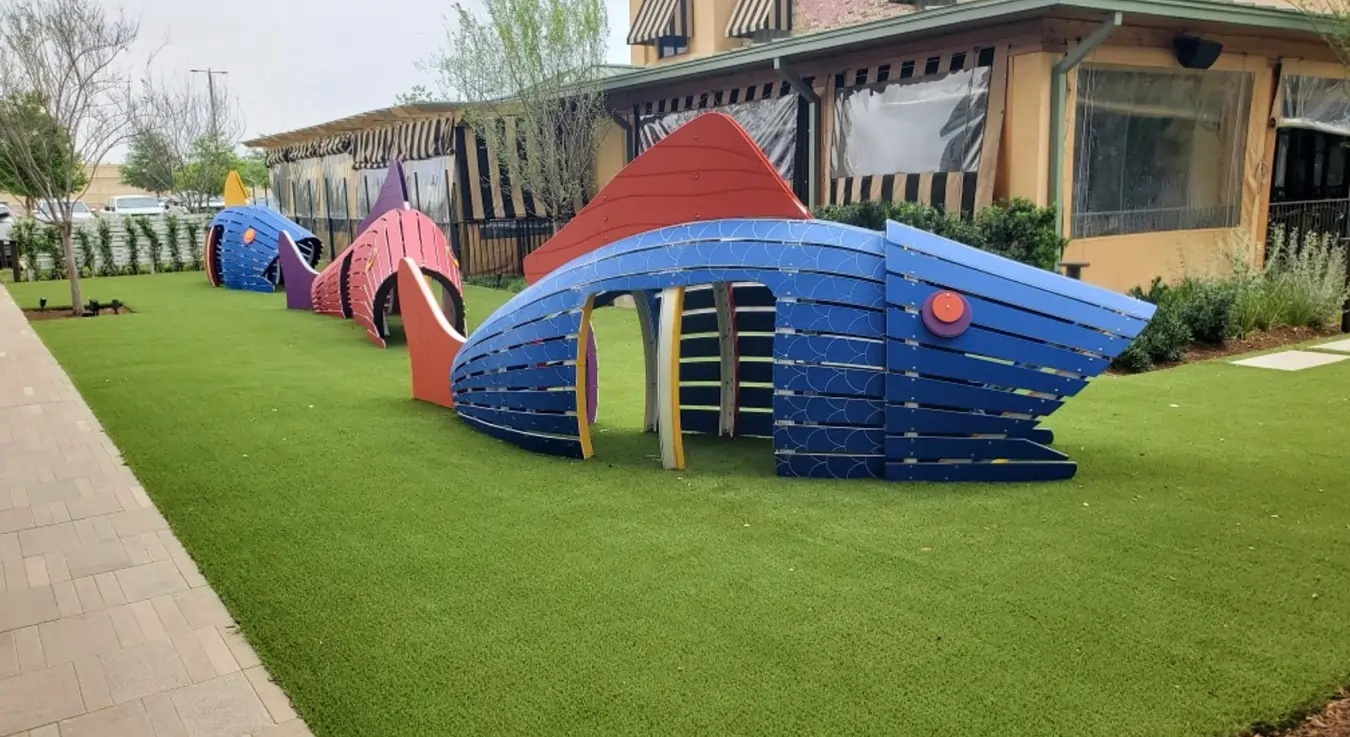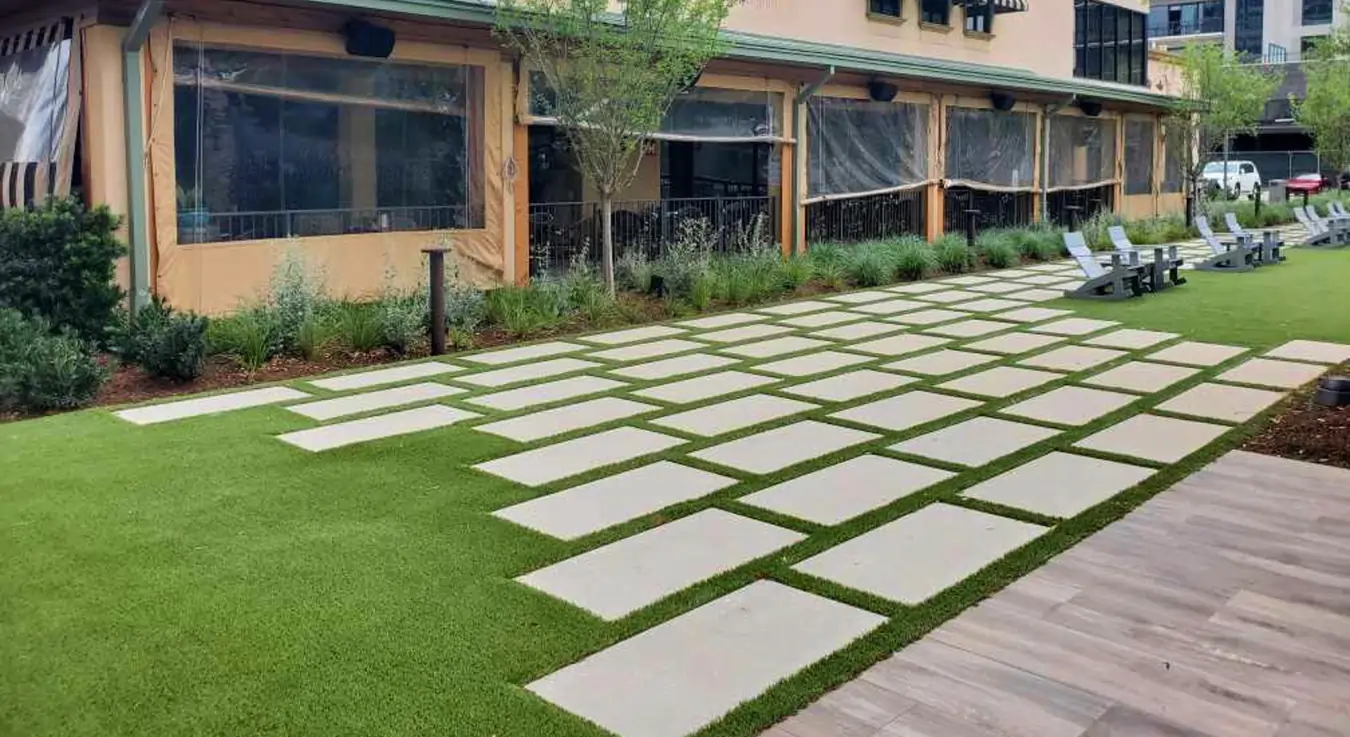 Commercial Safety Standards
At SYNLawn, nothing is more important than ensuring the safety of our customers. For this reason, we design synthetic grass that meets the highest commercial safety standards. SYNLawn grass solutions are independently laboratory tested to meet proper fall attenuations and help prevent common injuries and abrasions. As a result, we met the requirements to achieve IPEMA certification. This allows our products to be suitable for lawns, landscapes, playgrounds, schools, school districts, and more. In addition, many varieties of San Francisco Bay Area artificial turf include our patented HeatBlock technology. HeatBlock is scientifically proven to keep surfaces 20% cooler than competing brands even under direct sunlight and during the hottest summers. This keeps surfaces comfortable all year long while protecting children and pets from burning their feet and paws.
Fire-Safe Synthetic Grass
Whether you are a business or a homeowner, fires can start accidentally. In response, we proudly offer San Francisco synthetic grass that is ASTM E-108 Class A fire rated. Products with a Class A fire rating increase the critical window of time for first responders to get there and put out the fire. The exceptional durability and fire resistance that SYNLawn products offer are unmatched by any other business.