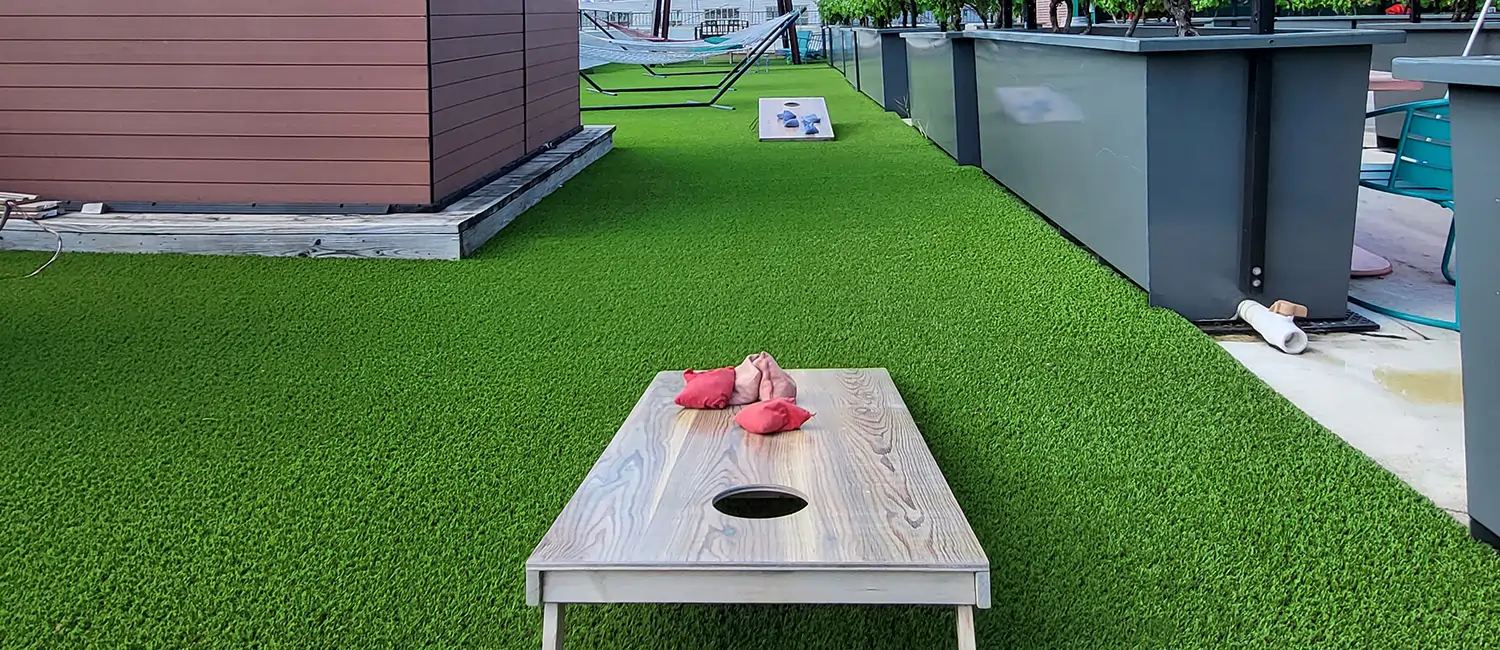 Transform your roof, deck, or patio spaces into more usable areas with San Francisco artificial grass from SYNLawn. Our innovative solutions provide many creative possibilities for synthetic grass and make it easy to transform awkward or empty spaces into something fun and practical. SYNLawn Bay Area synthetic grass is the perfect solution for roofs, decks, and patios as it resists fading from direct sunlight, offers substantially cooler surface temperatures, and is easily the most realistic alternative to natural grass.
The SYNLawn roof deck system is a wonderful example of how versatile SYNLawn Bay Area synthetic grass truly can be. We manufacture state-of-the-art rooftop turf that will provide you with your new favorite gathering place for friends and family, backyard parties, barbecues and more.
Residential homeowners all desire a landscape that they can be proud of; however, achieving the perfect lawn can require countless hours of maintenance and substantial upkeep costs. Fortunately, we make it possible to eliminate traditional maintenance from the moment your installation is complete. This means no mowing, no watering, and no fertilizing. For rooftop installations, installing an irrigation system is not an easy or affordable task. With SYNLawn San Francisco synthetic turf, your rooftop, patio, poolside deck and more, will glow green with ease.
The Exclusive Benefits and Technologies of San Francisco Synthetic Turf
Along with the versatility of our rooftop and patio solutions, our customers choose SYNLawn because of their exclusive technologies and benefits. After more than 50 years of research and development, we are proud to offer cutting-edge innovations not found anywhere else in our industry.
First-of-its-kind Super Yarn™ yarn formula
DualChill™ IR Reflective Technology helps keep turf fibers from fading and reduces heat absorption
Sanitized™ antimicrobial eliminates up to 99% of bacteria and prevents the growth of mold and mildew
StatBlock™ carbon-based anti-static prevents the transfer of static electricity from metal structures to the turf surface
EnviroLoc+ eco-friendly backing system locks in turf fibers, prevents shedding and tearing, and includes an additional coat of Sanitized antimicrobial to further eliminate and prevent bacterial growth
Built to withstand heavy foot traffic and high activity from children and pets
Requires little-to-no maintenance
Made in the United States and manufactured with recyclable materials
Backed by an unmatched lifetime warranty
Monthly financing available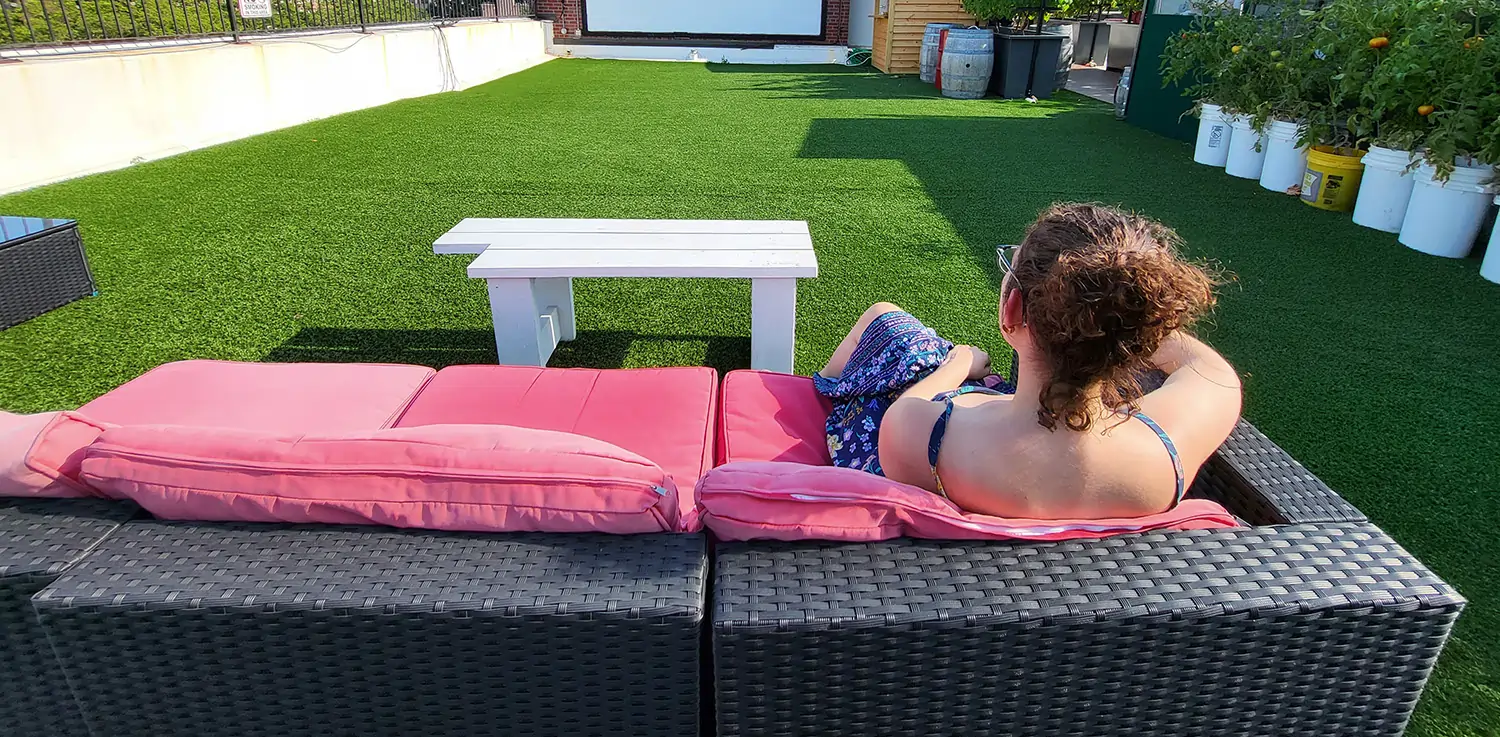 The Most Eco-Friendly San Francisco Artificial Turf
At SYNLawn Bay Area, our mission is to provide environmentally sustainable synthetic grass that is compatible with a comprehensive list of applications. SYNLawn has a strong and ongoing relationship with American soy farmers as their priorities for protecting the environment align with ours. It is with their help that we can replace large portions of petroleum from our manufacturing process with plant-based materials that make our products renewable and recyclable. As a result, SYNLawn became the first and only company to distribute USDA-certified artificial turf in San Francisco and surrounding cities in the Bay Area. SYNLawn synthetic grass is proven to save you more than half of your water bill, reduce your water consumption, and drastically cut down your carbon footprint.
ASTM E108 Class A Fire-Rated Synthetic Turf for Rooftops
Nothing is more important to us than the safety of our customers. We stop at nothing to ensure that we meet the highest safety standards to protect you, your children, your friends, and your loved ones. You can feel confident knowing that SYNLawn Bay Area synthetic turf will help cushion falls up to 10-feet and will protect you from common injuries and abrasions.
In addition, many of our customers want to install artificial turf on their rooftops. To do so, it became vital that we engineer a rooftop-friendly synthetic grass option that meets the most stringent fire safety standards, is backed by the strongest warranty against melting from reflective light, offers UV-resistance and more. SYNLawn roof, deck, and patio options meet ASTM E108 Class A fire rating standards, the highest and most coveted fire rating in our industry. Our products are proven to help prevent the spread of fires to protect your property and potentially fatal injuries. Rather than aiding the growth and spread of a blaze, SYNLawn turf will blacken and melt which helps to keep the fire in a more stable position.