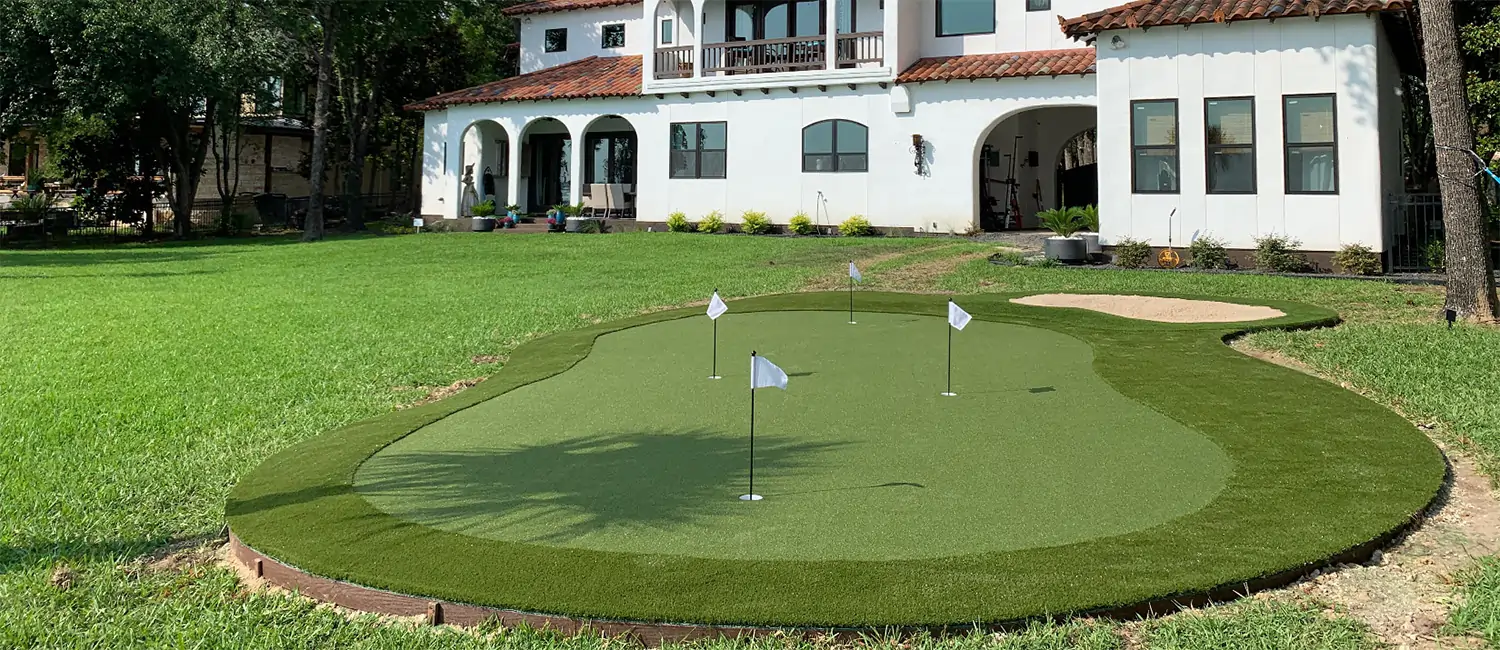 Residents of the Bay Area choose SYNLawn to transform their backyards into a golf paradise with our custom San Francisco putting green installations. SYNLawn provides the highest quality San Francisco golf greens and expert installations to ensure that you are abundantly satisfied with a long-lasting golf green. SYNLawn putting green turf will make your backyard the envy of the neighborhood and the talk of the town. Our skilled team of Bay Area putting green installers works closely with you to bring every specification of your backyard needs to life.
To provide the ideal solution for backyards, portable greens, and even 18-hole mini golf courses, SYNLawn collaborated with professional golf coach Dave Pelz to take synthetic golf turf to the next level. San Francisco golf and putting green turf provides a true ball roll, realistic putt, and adequate energy absorption to support natural slowing properties and an authentic ball bounce. Statistics show that nearly 80% of shots are lost to par in the short game. Golf enthusiasts appreciate our synthetic golf turf because it enhances their swing and has exceptional durability so you can hone other abilities like chipping and flop shots. Finally, while many companies offer the installation of backyard putting greens in San Francisco, only SYNLawn GreenMaster™ certified installers that have completed their expert training can complete your installation. Our GreenMaster™ certified installers are also required to maintain their training to stay up on the latest golf green installation techniques. This ensures that every customer gets the highest quality backyard putting green possible!
Features of our Putting Greens
100% Nylon Fibers provide year-round weather resistance, long-lasting durability, and vibrance
No bumpy seems to interfere with your authentic putt
Putting greens offer superior durability to practice chipping
One-inch-thick tee box surfaces that allow you to use a real golf tee can be installed
Customers can choose from a variety of luxury lawn options for their fairway, fringe, and rough surfaces
Add sand traps, bunkers, undulations, custom flags, LED cup lights and more
UV protection to prevent color fading
Custom designs for all skill levels, budgets, and indoor/outdoor spaces
No maintenance costs
Unmatched limited lifetime warranty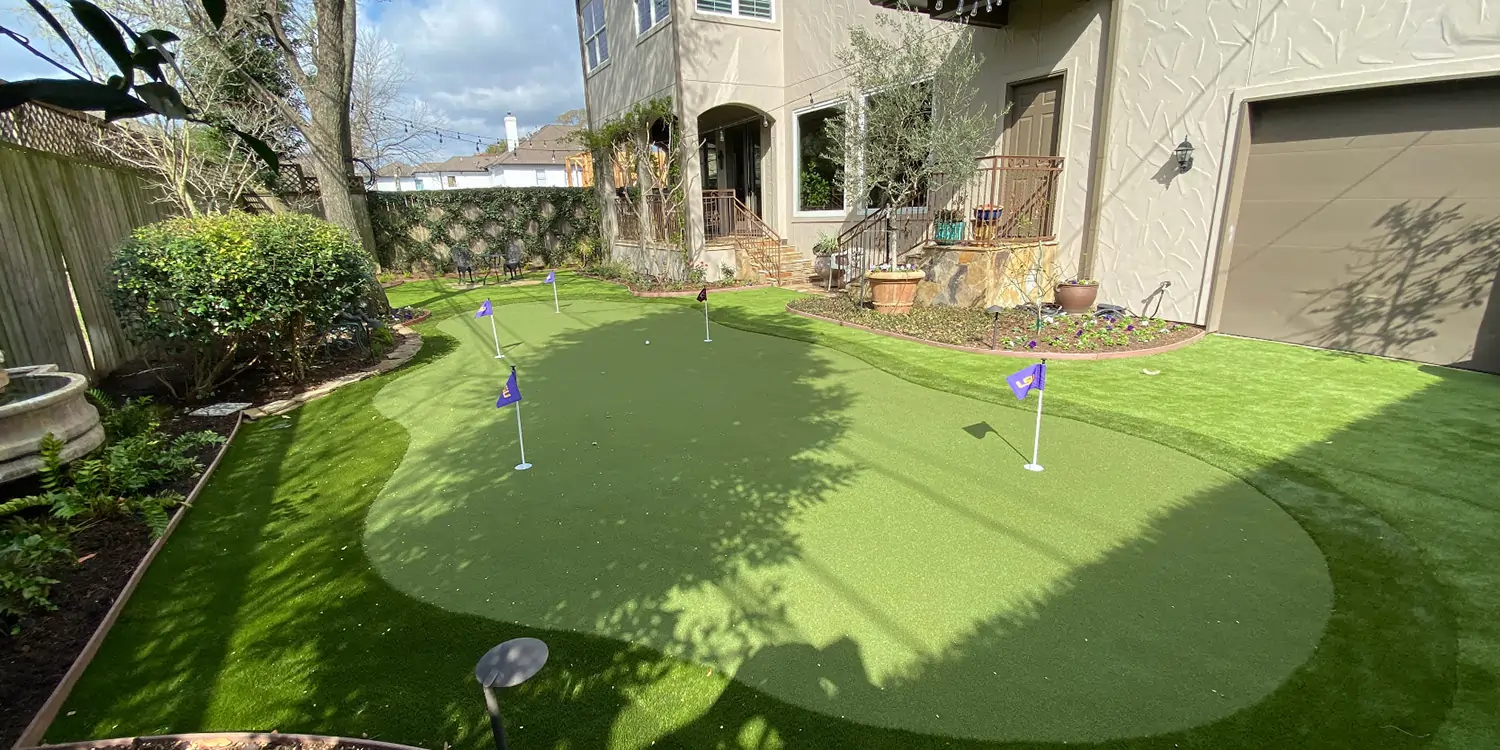 Beautiful Appearance and High Performance Year-Round
Traditional golf greens require weekly and sometimes daily maintenance to provide golfers with an adequate surface that will allow them to perform at their best. Unfortunately, this means that homeowners would have to give up their time spent on family, friends, and other activities just to be able to play their favorite sport. This entails routine lawn maintenance such as mowing, trimming, weed whacking, and repairing. This is not the case with our San Francisco putting green turf. It is undeniable that when it comes to the caliber of the playing field, golf has very high requirements for excellence. This is what led us to the creation of a maintenance-free, high performance golf turf that delivers consistent performance without the need for upkeep.
In addition, several golf courses need 24-hour water sprinkler operation and landscaping agreements. These tasks not only take a lot of time, but they may also be quite expensive. Furthermore, many golf courses require constant sprinkler system operation that can result in excessive water bills and repairs when they inevitably break.
Finally, thanks to our low-maintenance design we can eliminate harsh chemicals that are found in pesticides. In doing so we can ensure that your landscape and putting green are safe for children, pets, and everyone else in your life to enjoy.
Eco-Friendly San Francisco, CA Putting Green Turf
Environmentally conscious customers love building their backyards and putting greens with SYNLawn. Our customers can reduce 50-70% of their monthly water usage thanks to our eco-friendly and low-maintenance design. Additionally, SYNLawn Bay Area putting greens can substantially reduce our carbon footprint since they do not require a lawn mower. Additionally, we work closely in partnership with US soy farmers to replace harmful materials with renewable resources including sugar cane and soybeans to provide a recyclable alternative to natural grass and other lesser brand turf options.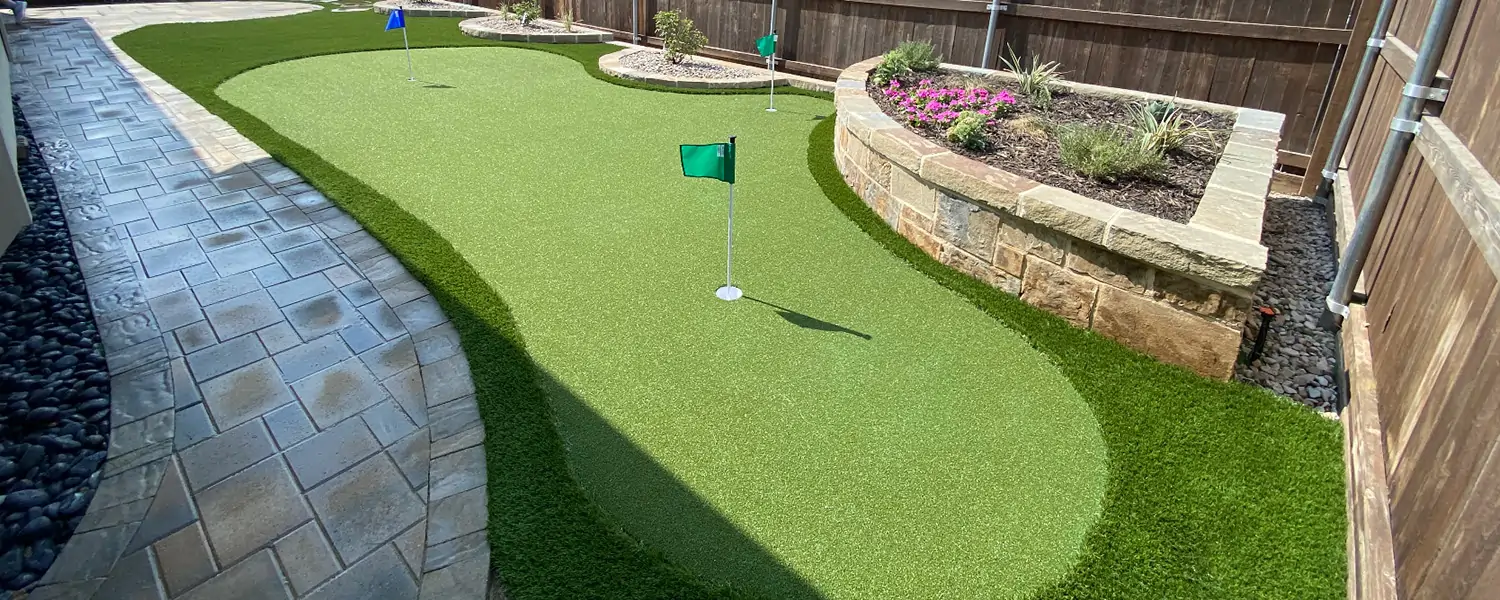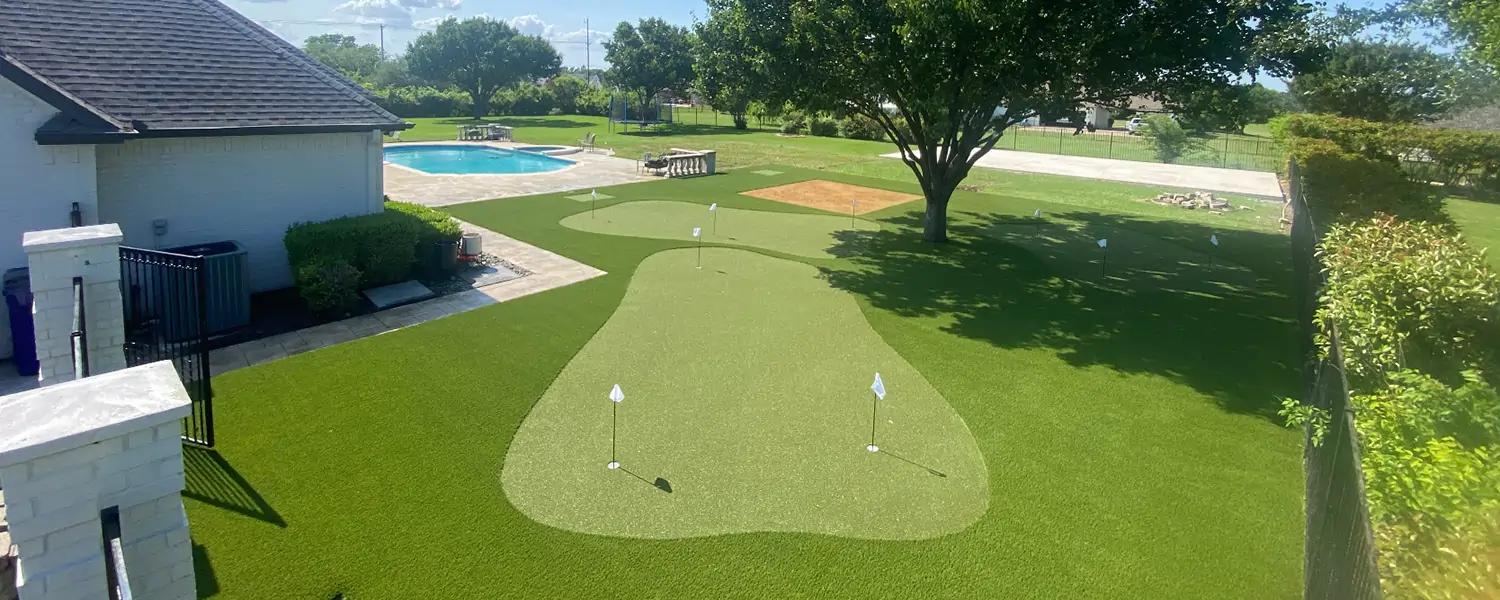 SYNLawn San Francisco Golf Greens Are Fully Customizable
At SYNLawn, we love to give our customers creative freedom in the design process. We provide them with versatile, ultra-realistic golf grass that is perfect for any sized backyard. A simple putting green, or a mini-golf course, as well as portable options to take with you on the go. In addition, we include obstacles such as fairways, fringe, and sandtraps to increase your challenge as well as LED cup lights for nighttime use.