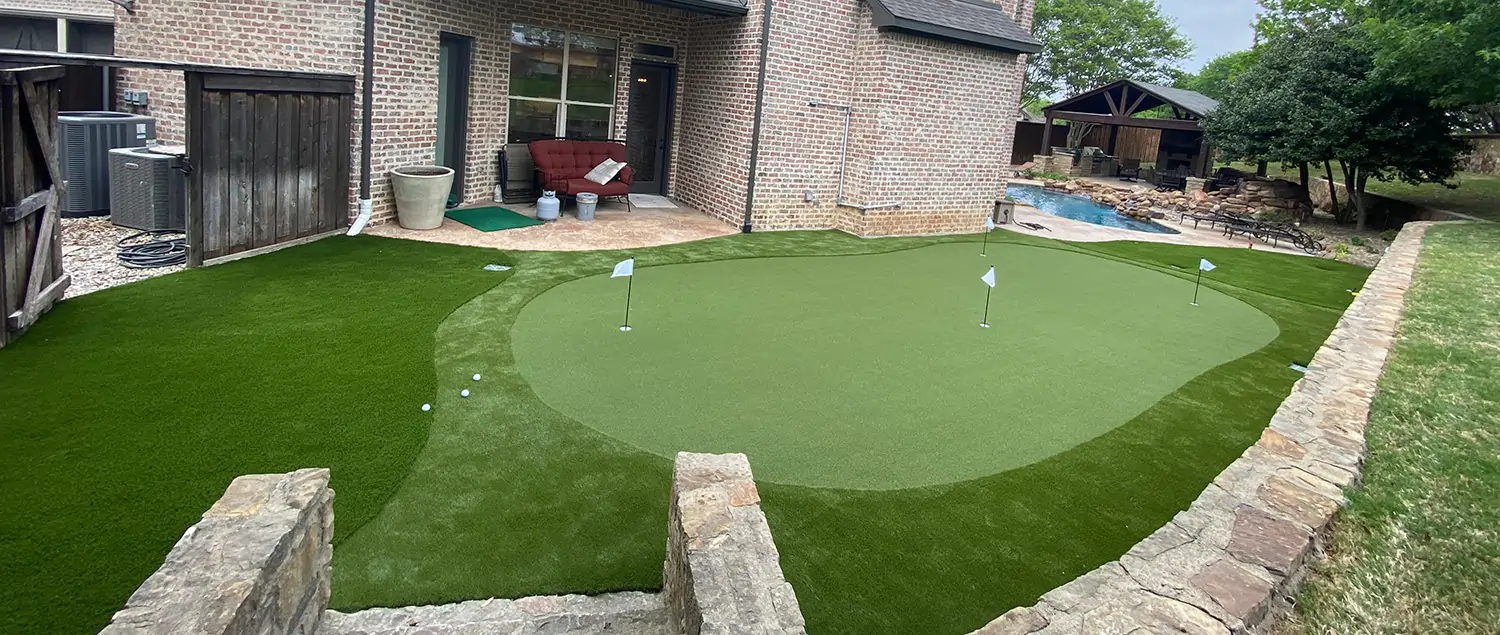 SYNLawn San Francisco golf greens are custom tailored to fit any underutilized or empty spaces. They can be included in both indoor and outdoor designs and are proven to raise property value. Our cutting-edge San Francisco putting greens were developed in partnership with renowned golf professional and coach Dave Pelz to deliver an authentic, PGA-caliber performance. Golf enthusiasts are passionate about improving their game and as a result, they understand the need to polish their abilities on a surface that will produce the most desired result.
Professional GreenMaster™ golf green installation
Increased performance to help you shoot lower scores on the golf course
Superior durability
Kid and pet-friendly
Eco-friendly materials made in the USA
Realistic putt, true ball roll, & proper energy displacement to naturally slow down your ball
ASTM E-108 Class A fire-rated rooftop options
HeatBlock™ technology keeps surfaces 20% cooler than competing brands for year-round comfortability and play
Unmatched limited lifetime warranty
Professional GreenMaster™ Putting Green Installation in San Francisco, CA
Anyone in the artificial grass industry can install San Francisco golf turf, however, only SYNLawn GreenMaster™ certified installers can complete your SYNLawn golf green installation. This program assures the highest quality of each installation and guarantees that PGA-caliber performance for our clients. It all begins with a properly crafted foundation. Installers must master the skill of producing a flawlessly smooth base on which to put our Bay Area golf greens. They must also be able to simulate varying altitudes and undulations while keeping a correct slope. Finally, GreenMaster™ installers must regularly undergo updated training to ensure consistent quality.
Low-Maintenance Bay Area Putting Green Turf
While passionate golfers are always ready to practice their skills or reduce stress in the backyard, traditional putting greens come with traditional maintenance. Fortunately, SYNLawn putting green turf follows our low-maintenance philosophy. This means no more expensive repairs, no more green keeping, no fertilizer, no wasted water, and no stress. We assist our customers by reducing their water costs by up to 50-70%, removing the need for lawn equipment or maintenance personnel, and no more mud or yellow spots caused by pet waste. Your SYNLawn San Francisco putting green will remain rich and colorful all year, so you will be ready to swing whenever the mood strikes.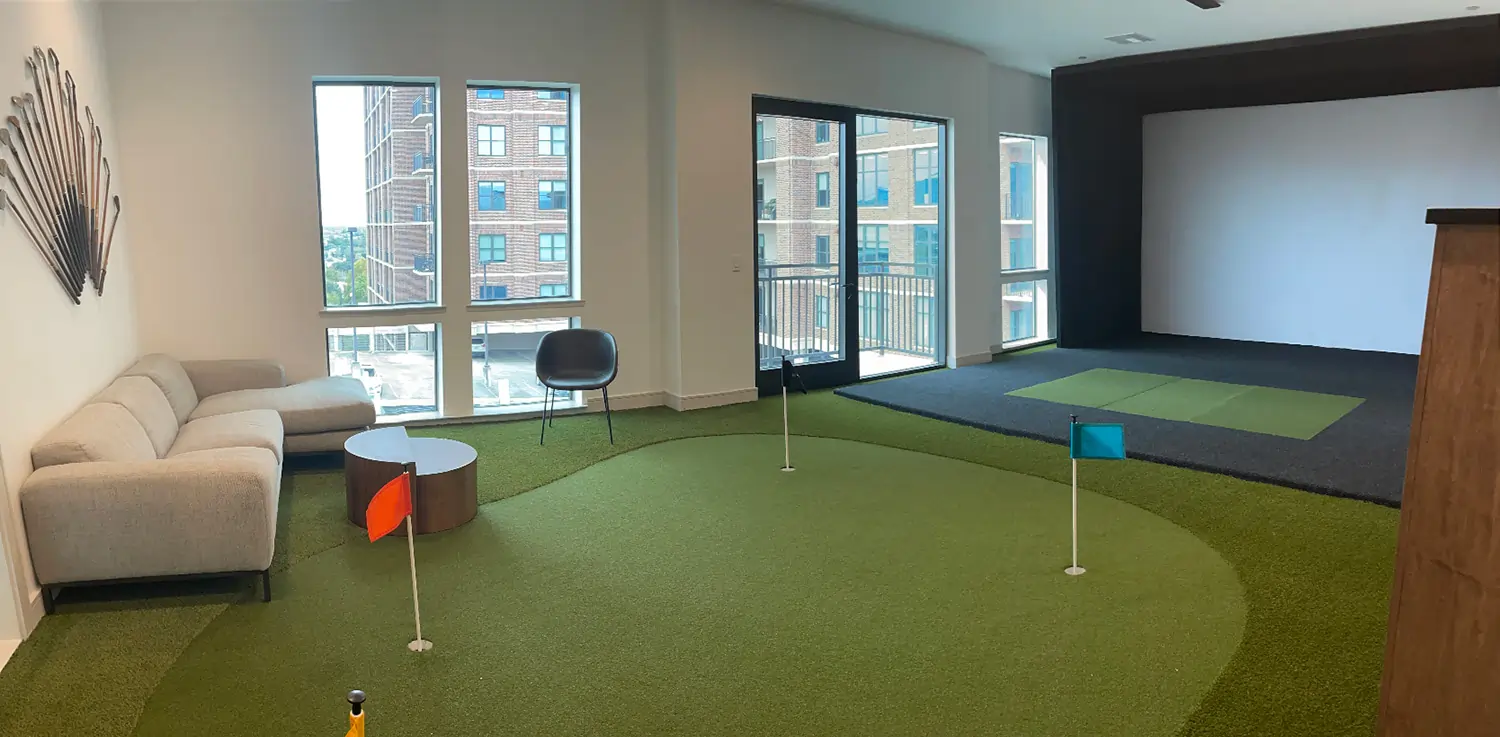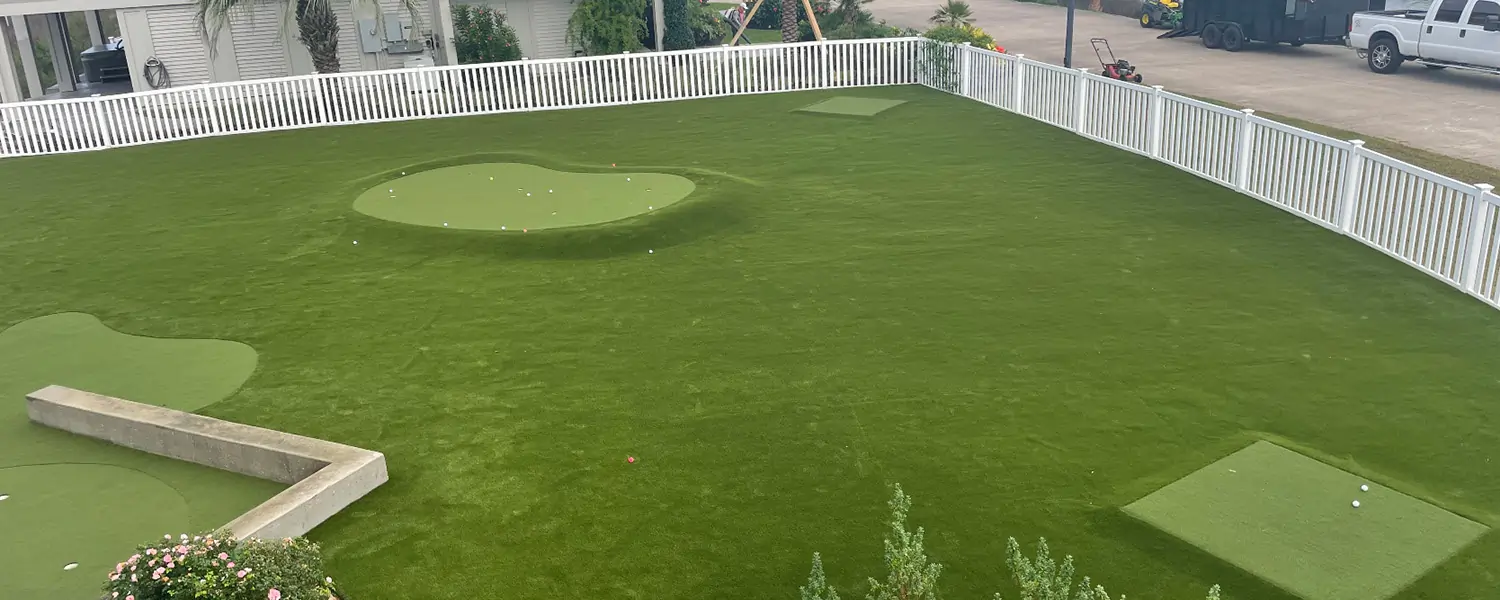 SYNLawn Bay Area Golf Greens Are Fully Customizable
Part of what makes SYNLawn golf turf so special is the level of customization it has to offer. Homeowners have the option to increase their challenge with obstacles including sand traps, bunkers, tee lines, tee boxes, and slopes. In addition, we offer different turf options for fringe, fairway, and rough surfaces as well as LED cup lights if you are looking to add more personal flair. Regardless of the layout of your landscape or living space, we will work closely with you to ensure that your putting green integrates with your surrounding features.
Improve your Performance and Short Game at Home
Golfers can develop their aim, technique, and short game in their own backyards with the help of our unique backyard putting green designs. According to statistics, 80% of short-game shots fall short of par. SYNLawn golf turf was created to provide the best, most realistic golf green experience available. You may maximize the benefits of your at-home training by using our greens, which have consistent ball roll and natural slowing characteristics like those seen on professional golf courses.
The Environmental Benefits of SYNLawn® San Francisco Bay Area Golf Turf
Our use of eco-friendly materials play a large role in what makes our putting greens low maintenance as well as long-lasting and eco-friendly. With the help of American soy farmers, we can source renewable components including soybeans, soybean oil, sugarcane and more, to replace more than 60% of petroleum-based materials from our manufacturing process. In addition to our plant-based composition, SYNLawn golf grass is designed to reduce carbon emissions, conserve water, and prevent negative impacts on local landfills.