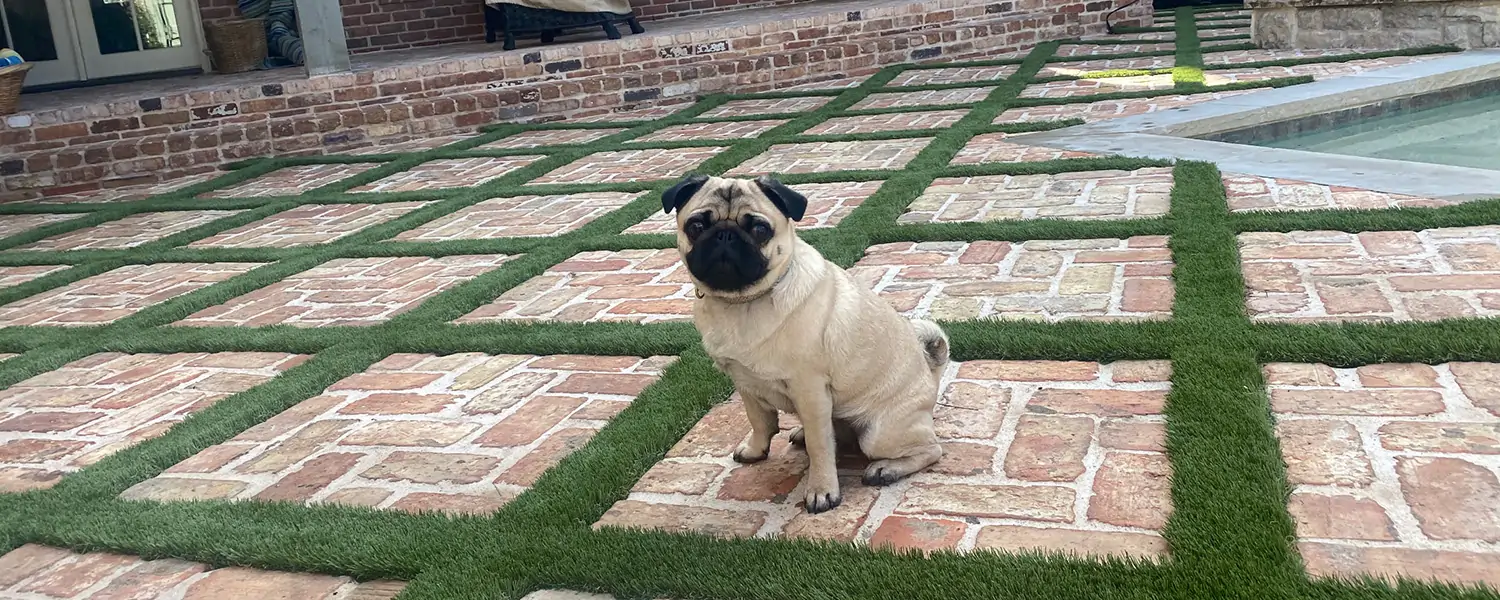 At SYNLawn Bay Area, we fully understand that pet owners have various needs for their landscape to ensure the safety, wellbeing, and cleanliness of their pets. As pet owners ourselves, we went to the drawing board to create plant-based synthetic pet turf specifically designed to meet the needs of every pet-friendly landscape. Whether you need a lawn solution to prevent destructive digging, or just need a lush and vibrant lawn that offers unmatched stain and odor resistance, we have the perfect San Francisco pet grass options for you. In order to choose the product that will best serve your needs and the needs of your dogs, we will take the time to fully explore your options.
SYNLawn San Francisco artificial grass for dogs is extremely durable, realistic, safe for the environment, helps you save water, and reduce your water bills. The low-maintenance, exceptional durability, cutting-edge innovations, and eco-friendly features of SYNLawn Bay Area pet grass combine to provide the highest quality pet turf San Francisco has to offer. With the help of our pet and dog grass, pet owners can say goodbye to potholes that are expensive to fix, muddy paws in the winter and during rainy seasons, and troublesome pests such as fleas and ticks.
San Francisco Pet Grass Stays Clean and Drains with Ease
SYNLawn Bay Area pet grass can also include a highly effective and pet-friendly safe infill called Envirofill® which helps to reduce odors caused by ammonia in pet waste as well as prevent the growth of mold, mildew, and other bacteria. Envirofill is a state-of-the-art infill, made of acrylic sand, which is safe for both dogs and children and is proven to lessen surface temperatures by 20%. This feature in combination with our exclusive HeatBlock™ and DualChill™ IR reflective turf technologies make SYNLawn the synthetic turf with the coolest surface temperatures on the market.
SYNLawn San Francisco pet turf systems also include our exclusive plant-based backing system, EnviroLoc+™, which provides the highest drainage to prevent stains and odors from pet urine, mud accumulation, flooding, and keeps surfaces dry after water exposure. Water (or any other liquid) drains through at up to 1,200 inches per hour. Your pets, family, or friends will be able to use the space almost immediately after a heavy rainfall since there will be no standing water.
Sometimes your dog or pet will find themselves in a messy situation that could have been avoided. This may be the result of playing in the mud, getting their paws wet from the rain, or bringing some unwanted allergens in the house. With the aid of our patented EnviroLoc+ backing, Envirofill, Super Yarn technology and the integrated antibacterial by Sanitized®, we can provide you and your pets with cleanest, safest, and most durable pet-friendly artificial grass in San Francisco.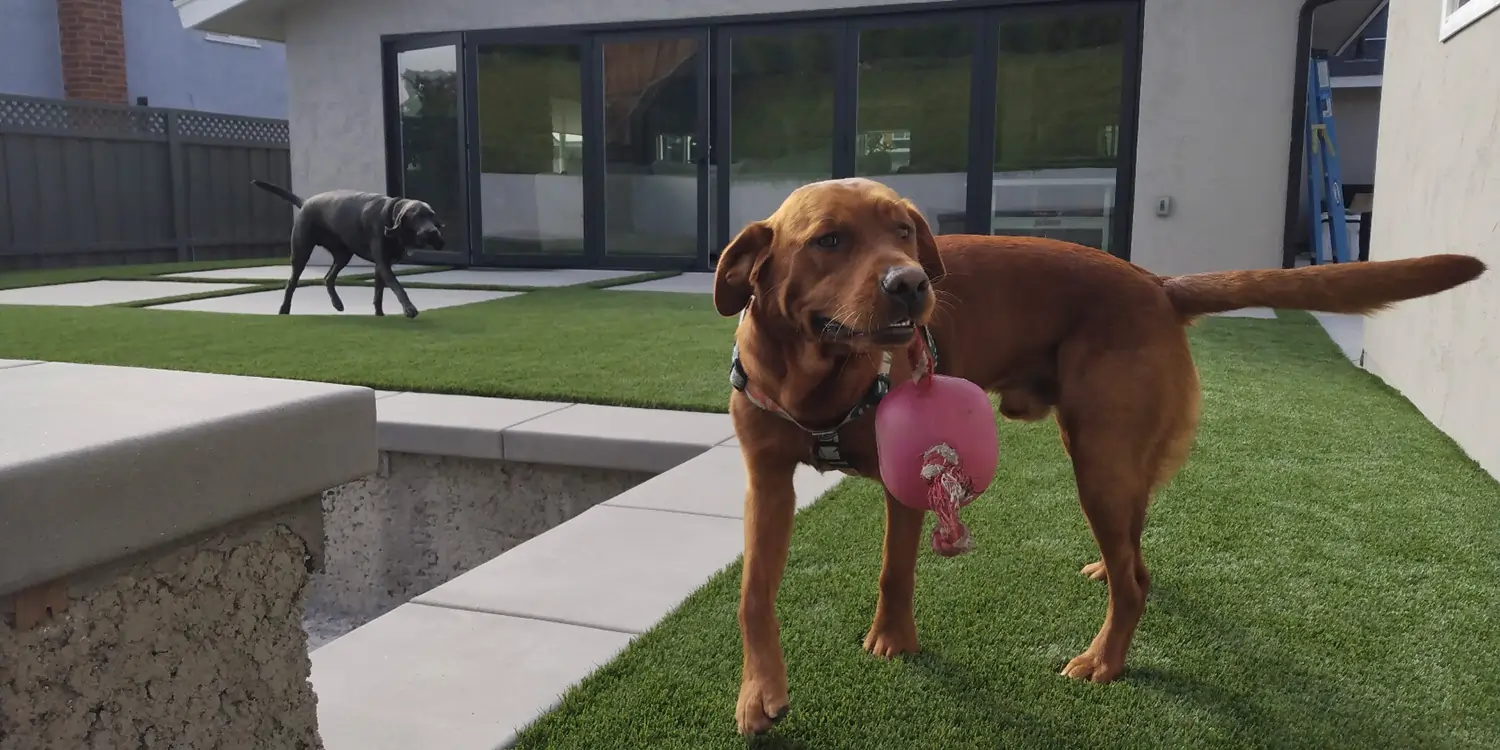 The Most Eco-Friendly Pet Turf in San Francisco
The usage of eco-friendly materials is one of the first things we consider when designing San Francisco pet grass. We go beyond reducing water waste and lawn equipment to ensure that SYNLawn synthetic pet turf exceeds high sustainability standards. We provide your pet with a considerably safer, healthier, and environmentally responsible product by utilizing bio-based resources such as sugar cane and renewable soybeans. Additionally, by switching to SYNLawn Bay Area artificial grass for dogs, you can save tens of thousands of gallons of water annually and eliminate about 90 pounds of carbon dioxide that would otherwise be produced by a gas-powered lawn mower.