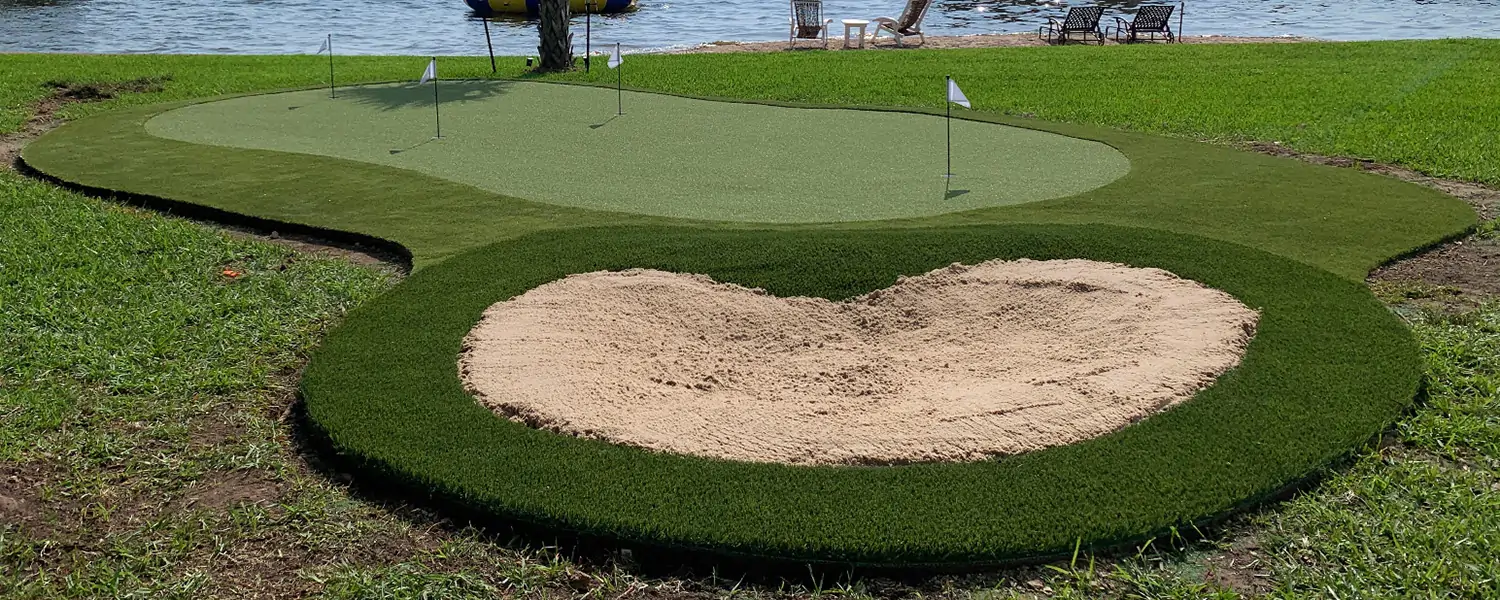 SYNLawn provides the highest quality eco-friendly putting green turf San Francisco and the Bay area have to offer. They are manufactured with the help and partnership of professional golf coach Dave Pelz, as well as an ex-NASA engineer, to replicate the appearance and performance of natural grass golf greens as closely as possible. They are designed for PGA-caliber performance and unrivaled durability so your commercial golf green will last for decades with little to no maintenance required. San Francisco golf turf are perfect for all ages and any level of skill. It is the perfect way to increase commercial property value, attract customers, and provide your patrons with a one-of-a-kind experience.
These state-of-the-art Bay Area golf greens are known for their ability to eliminate traditional maintenance, save our customers money on their water bills, reduce carbon emissions and more. At the very most, you can hose down your SYNLawn golf green or leaf blow it to keep it looking lush and vibrant year-round.
Additional benefits include, but are not limited to:
Realistic putt with natural slowing characteristics and highly accurate ball roll
Extremely tough surfaces that allow for chip shots
Converts underutilized areas into something more usable, fun, and interesting
Excellent for entertaining customers as well as teaching children
Made in the United States using the best quality artificial grass available
One-inch-thick practice surfaces that allow you to use a real golf tees
Professionally installed T-Strike lets you make a complete swing without grabbing the club head
Effective drains in each cup prevent backfill of water and mold
Select from different turf options for your fairway, fringe, collar and more
Customizable with obstacles to increasing the challenge
Add sand traps, tee lines, tee boxes, slopes, and other obstacles
Commercial golf greens from SYNLawn Bay Area are designed for both indoor and outdoor installation. With golf's popularity always on the rise, SYNLawn makes it easy for customers and employees to practice their skills and improve their performance at any time. No matter how often they are used, SYNLawn's artificial golf greens provide unparalleled brilliance for years to come, regardless of climate. Players are able to play at any time of day or night. We even offer LED cup lights for fun nighttime play. Your residents, clients, and customers can play mini-golf indoors or outdoors even on the coldest, darkest winter days.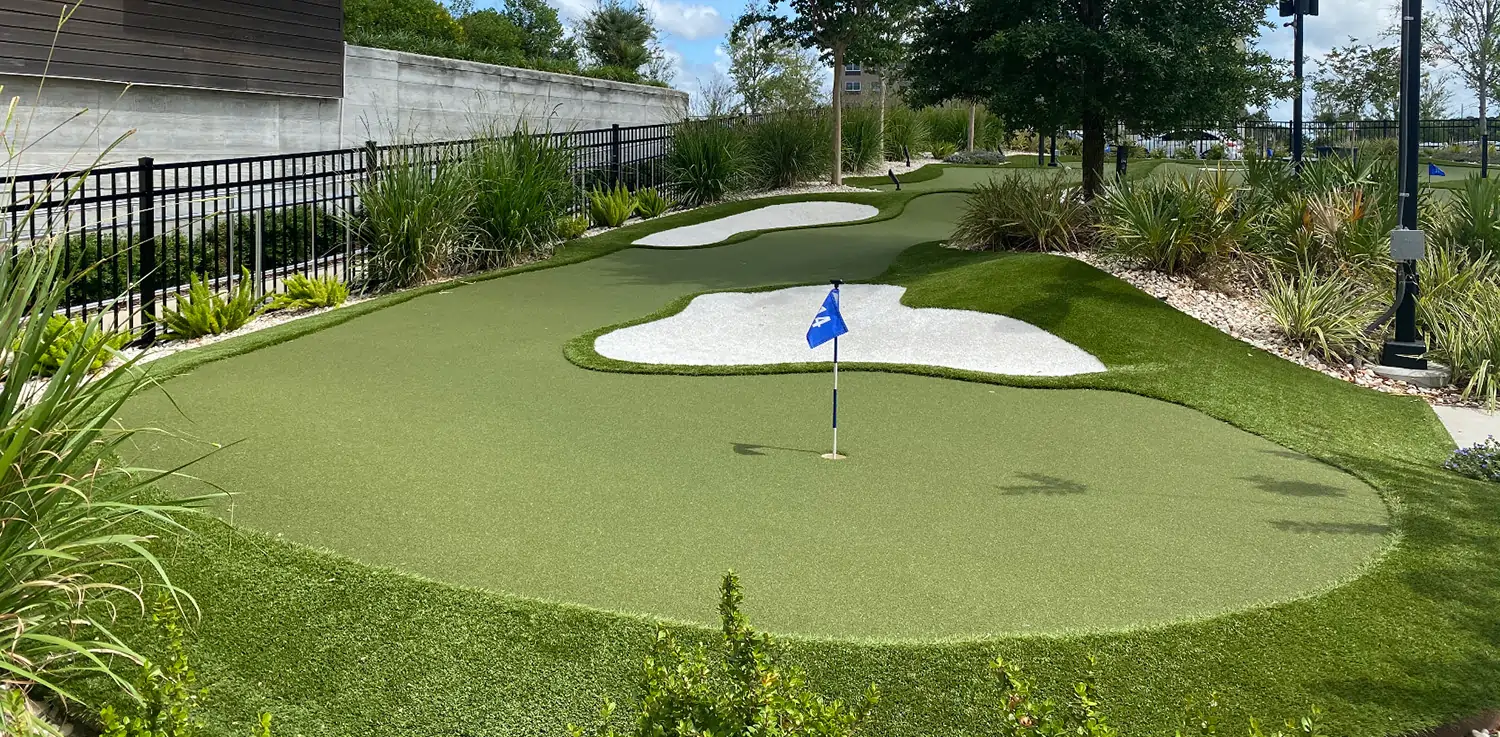 GreenMaster™ Certified Bay Area Golf Green Installers
At SYNLawn, San Francisco putting green turf can only be installed by those who receive GreenMaster™ training and certification. GreenMaster™ installers regularly undergo training to ensure that our standard of quality and precision is never lost. From smoothing out your surface to installing every square inch with precision to prevent seams. We work diligently to ensure that your Bay Area commercial golf green is of unmatched quality. If you're not satisfied, we're not satisfied.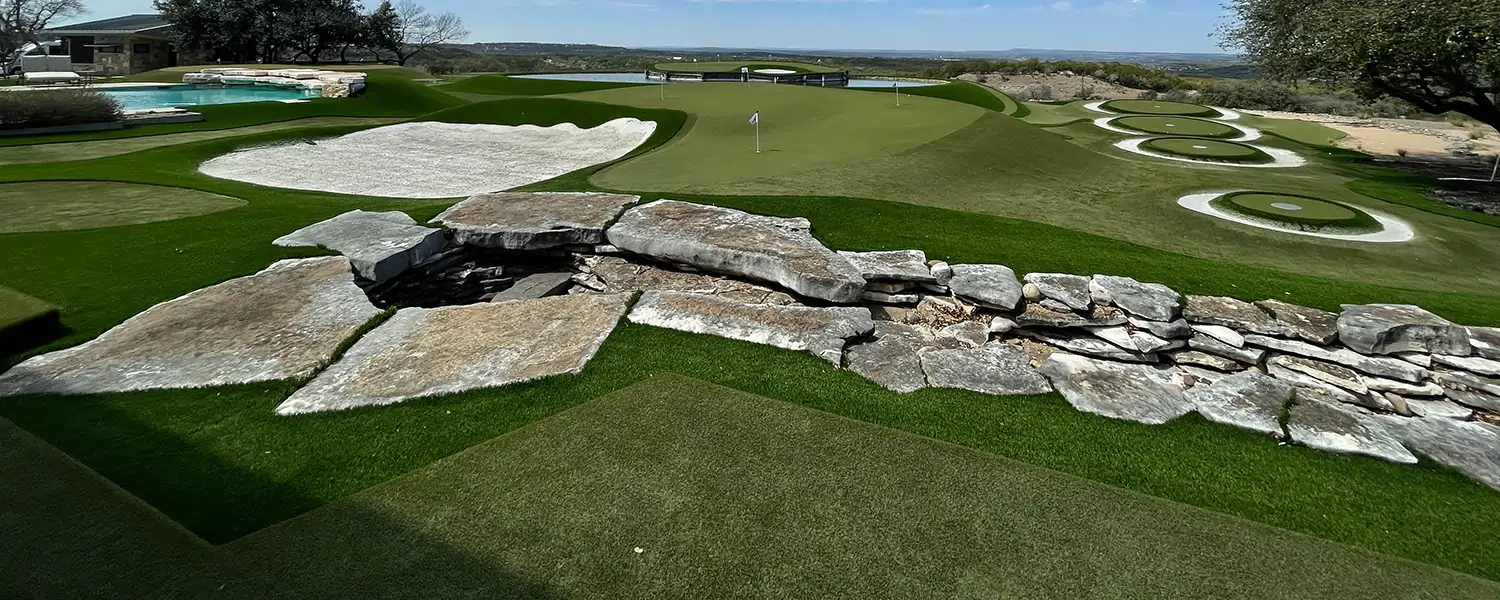 Eco-Friendly San Francisco Putting Green Turf
SYNLawn's dedication to environmentally sustainable artificial grass doesn't stop with lawns. Your brand-new San Francisco golf green is manufactured with the same recyclable and renewable materials that ensure more than 20 years of longevity. Thanks to our strong partnership with American soy farmers, San Francisco golf turf is made with sugar cane and soybean oil to replace 60% of petroleum-based materials allowing you to reduce your carbon footprint on top of conserving more than half of your monthly water consumption and reducing those monthly water bills.